Larnaca is the 3rd largest city of Cyprus and home to major airports on this island. It holds highly exotic beaches and ancient temples, tombs, and monasteries that demand visits by tourists. Whether you are fond of ancient archaeological sites or love to spend time on the beaches and restaurants, Larnaca is the place for you.
However, reaching every exciting location in Larnaca via bus or public transport is cumbersome and painful. That is why we at CYPRUS247TAXI offer our services to give you a pleasant, comfortable, and fast taxi Larnaca ride and an experienced driver that knows all the perks of Larnaca roads and is very friendly. Book your Larnaca transfer now and let our taxi transfer service take you everywhere worth the visit in Cyprus.
Distances and Times from Larnaca/to other places by taxis
| | | |
| --- | --- | --- |
| Route | Duration | Distance |
| LARNACA <> AYIA NAPA | 40 minutes | 47 km |
| LARNACA <> PAPHOS | 1 hr 27 minutes | 133 km |
| LARNACA <> LIMASSOL | 57 minutes | 67 km |
| LARNACA <> LARNACA AIRPORT | 11 minutes | 8 km |
| LARNACA <> NICOSIA | 45 minutes | 51 km |
| LARNACA <> PROTARAS | 48 minutes | 55 km |
| LARNACA <> PAPHOS AIRPORT | 1,5 hours | 129 km |
| LARNACA<> TROODOS | 1,5 hours | 112 km |
Reasons to get Larnaca taxi service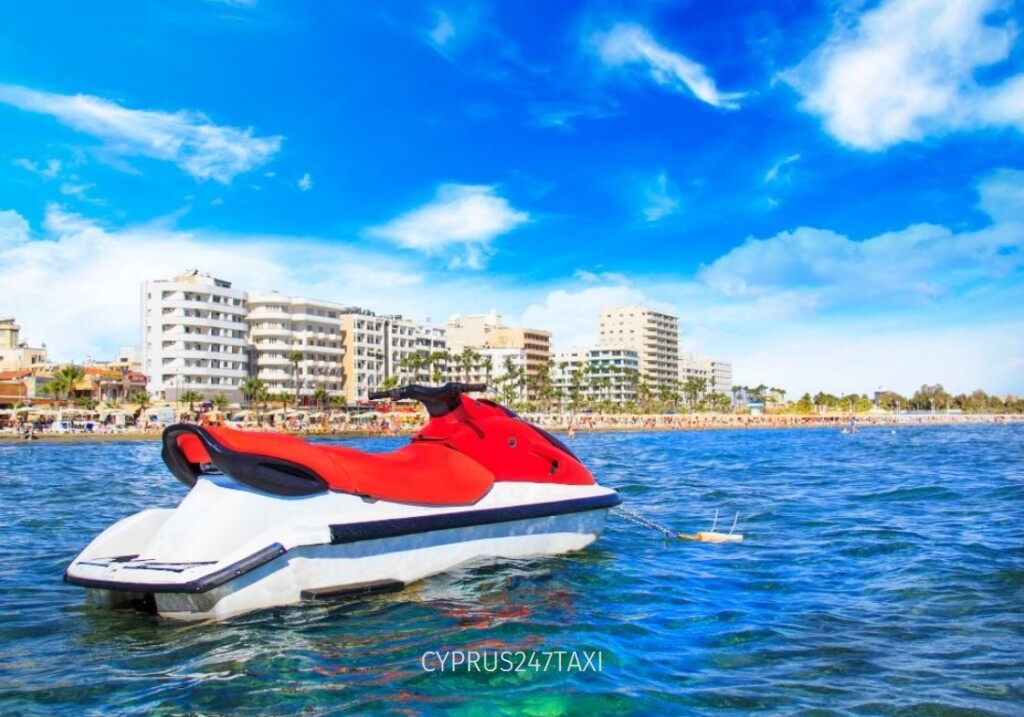 Cyprus is an educational and tourism hub. Every year thousands of tourists and students come to Cyprus and study while having a great time. Cyprus holds beautiful beaches and ancient monuments that are worth the visit. Unfortunately, getting to these destinations on time and comfort is a big issue in Cyprus. Therefore, we at CYPRUS247TAXI make sure that traveling is comfortable and travelers also reach on time by taking the safest and most efficient route with our Larnaca taxi service. We have experienced taxi Larnaca drivers and comfortably fast vehicles that can take tourists anywhere on time. Their safety is our primary concern, and we ensure that our drivers take care of the travelers as they ride with us in our Taxi transfer.
While buses are undoubtedly comparatively convenient and cheaper than taxis, other issues related to traveling via buses make the journey tiresome and uncomfortable and increase the chances of getting lost along the way. Here is why traveling via bus is not convenient for travelers visiting from other countries.
Travelers must be completely aware of the bus routes that will take them to their desired spot, or they might get lost during their trip.
Tourists may need to switch several buses, which makes traveling complicated and increases traveling time because the buses are not readily available at the bus stop, and travelers may need to wait.
Although the bus is economical, it is overcrowded most of the time and congested, which results in an exhausting and painful trip, especially in the hot weather.
Due to the above reasons, traveling via bus system is complicated and requires careful and detailed planning compared to traveling via taxi. On the contrary, taxis are way more efficient, cut off long waiting and traveling time, and keep travelers away from oversaturated crowds so they reach their destination with fresh and prepared minds.
Taxi Larnaca: CYPRUS247TAXI vs public transportation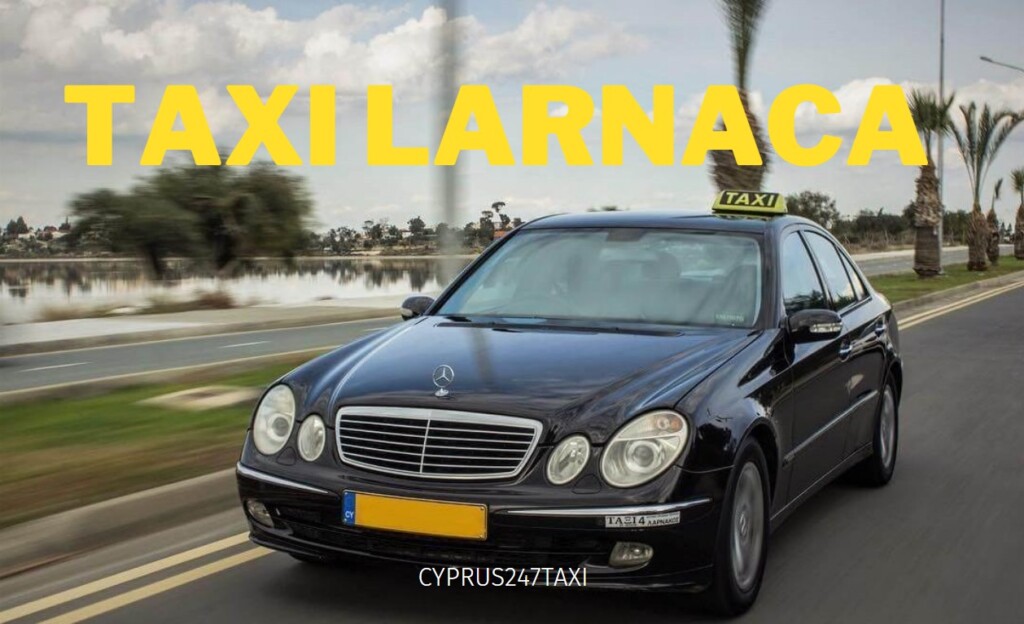 Using a taxi in Larnaca is convenient for various reasons. While taxis are comparatively expensive compared to public transportation, the several other benefits to traveling in it compensate for the costs, and travelers are at ease using a taxi which is by far convenient and comfortable.
One big reason why traveling in a taxi in Larnaca is highly recommended is due to varying bus schedules across the city. While the buses may run frequently in summer, they do not travel to mountainous areas in winter, making these spots hard to access for zealous tourists. The buses run frequently from Monday to Friday but cease between 5 – 6 pm on weekdays and 2 pm on weekends. It means travelers can no longer travel after the said time and must return to their hotel before 6 pm. Another hurdle is that on Saturdays and Sundays, the bus timings are shorter and lesser buses run on the roads compared to the weekdays.
In northern areas, the roads are underdeveloped and have improper bus systems that can safely take tourists to beautiful locations from Larnaca. Here are a few spots that are difficult to reach via bus from Larnaca:
Five Finger Mountains – the one-way path leading to this location is a two-way road. It is very narrow and gets dangerous during rain and snowfall.
Town of Esentepe – Another one-way path in northern Cyprus is the Esentepe Road. Again, this path also serves as a two-way lane. There is continuous construction work along the way, and trucks, lorries, etc., travel on the road, and tourists are at risk while traveling on this road.
CYPRUS247TAXI for intercity trips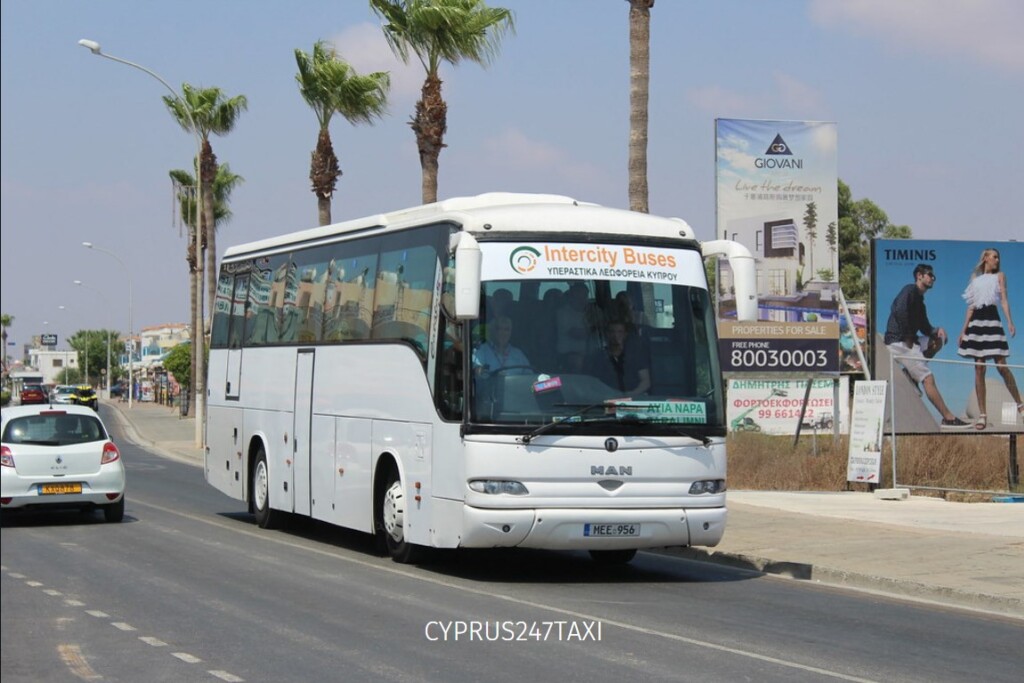 While traveling within the city of Larnaca by bus is sometimes a feasible option with some perks, it gets troubling for intercity trips when tourists plan to visit beautiful places. One of the main reasons is the varying bus schedules and number of buses. In summer, the buses run frequently, but in winter, fewer buses on the roads increase the waiting time at the bus stops. However, the last intercity bus travels between 6-7 pm. The imposed time limitation creates hurdles for travelers to visit every attractive location in different cities. But by hiring CYPRUS247TAXI, tourists can reach any place and enjoy the moment to their heart's content. Our taxi transfer service is there to take them back whenever they want. So book our taxi Larnaca rides 24/7/365 without any fear.
CYPRUS247TAXI services remove all the time limitations to travel and provide opportunities for tourists and locals to travel anywhere and anytime. Various taxi transfer options suit any traveling requirement keeping comfort and safety the top priority at all costs. So whether tourists plan to visit exotic Golden Beach, Akamas Gorge, or Polis or even plan to hike, CYPRUS247TAXI is the ultimate option as it provides the fastest taxi Larnaca facility throughout Cyprus.
Visiting landmarks of Larnaca via CYPRUS247TAXI
Larnaca Castle Museum And Fort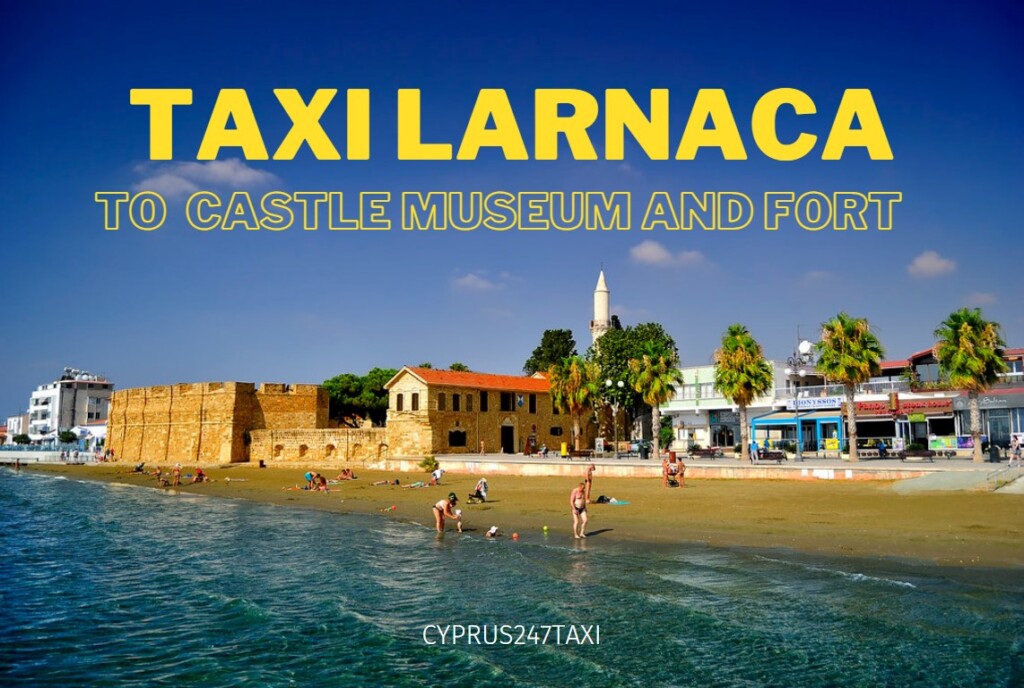 The Larnaca Castle Museum and Fort is the most important historic buildings that lie at the southern end of Foinikoudes Promenade. This castle was built in the late Medieval Age but later neglected over the coming years, which resulted in gradual deterioration. This castle was used mainly as an execution ground and prison by the Ottomans, Germans, and the British. In this museum, there are different tools, utensils, and weapons used in early times. This castle is not very fascinating, but the open-air theatre and cannons demand one visit to itself.
Ride CYPRUS247TAXI to reach this fascinating castle with extreme convenience and comfort. The castle is 2.5 km away from Larnaca city and our taxi Larnaca can drop you there within 10 minutes via our taxi transfer.
Choirokoitia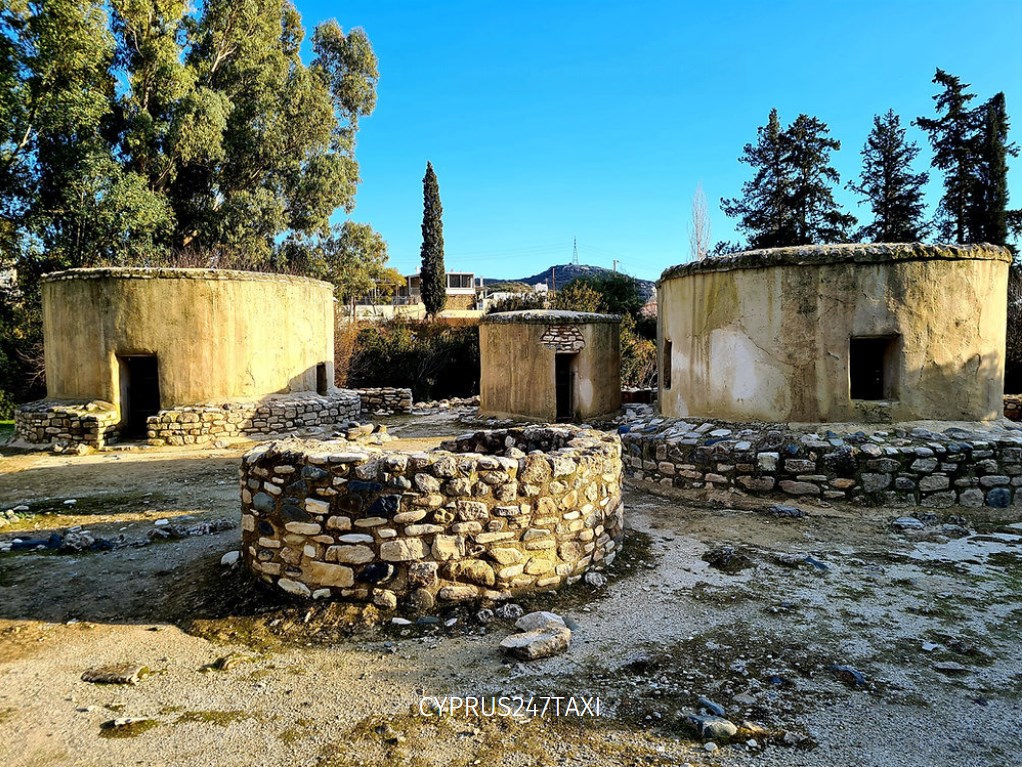 The ancient archaeological site dates back from the 7th to 4th millennium, BC and provides an excellent insight into the society development in Cyprus. Tourists can witness preserved circular houses made of mud, different tools and decorative items, and wonderful architectural systems. The size of the houses tells that the inhabitants of this society were short-heightened and had a high child mortality rate. Nobody knows why and how the entire civilization disappeared, and the place remained undiscovered till 1500 years back.
The Choirokoitia is 31.5 km from Larnaca, but CYPRUS247TAXI can take tourists there within 25 minutes. Order the best Cyprus taxi Larnaca service now, and visit this ancient site.
Stavrovouni Monastary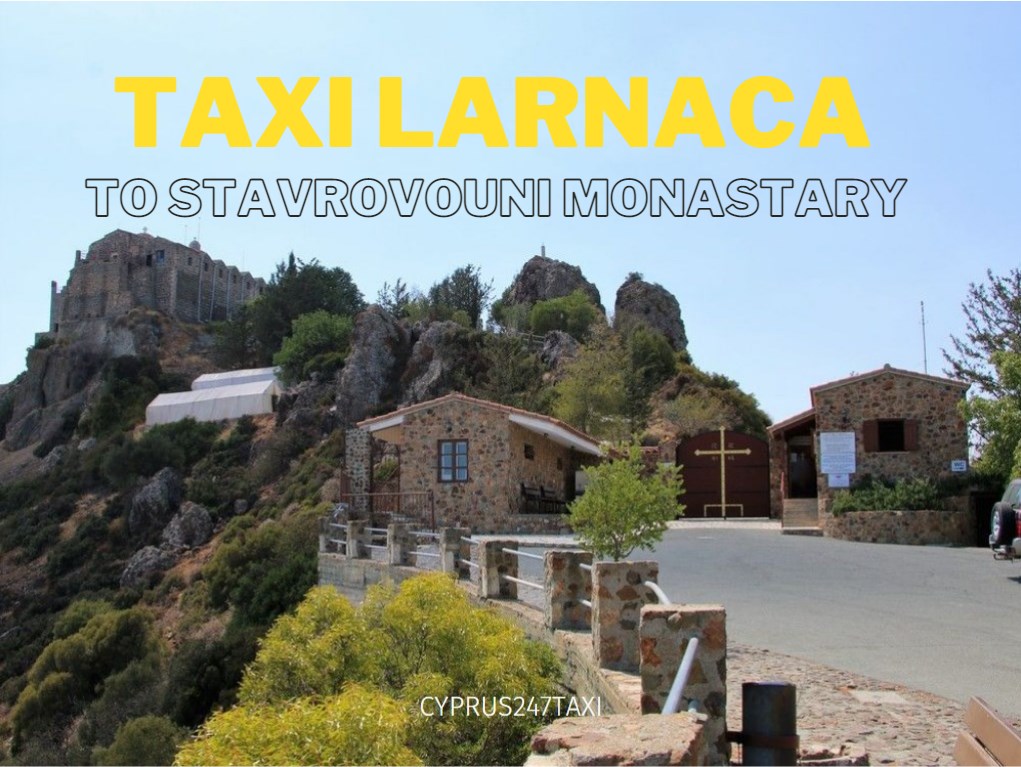 This monastery is one of Christianity's most significant destinations. Founded by St. Helena, mother of Byzantine Emperor Constantine the Great, it is the first monastery ever built in Cyprus. There was a Holy Cross back in early times, which later disappeared. It is believed that one of the invaders attacking the island took it with them, but the information is uncertain. Now tourists can only see a piece of cross housed within another cross. This church has no monks but is still considered a religious center for Christians.
This monastery is 40.2 km away from Larnaca. If travelers wish to visit the place, but are worried about the long distance, fear not, as our luxurious and convenient taxi will take travelers there in less than 40 minutes. Our drivers are friendly and do not let tourists bore anywhere along the route.
Ancient Kition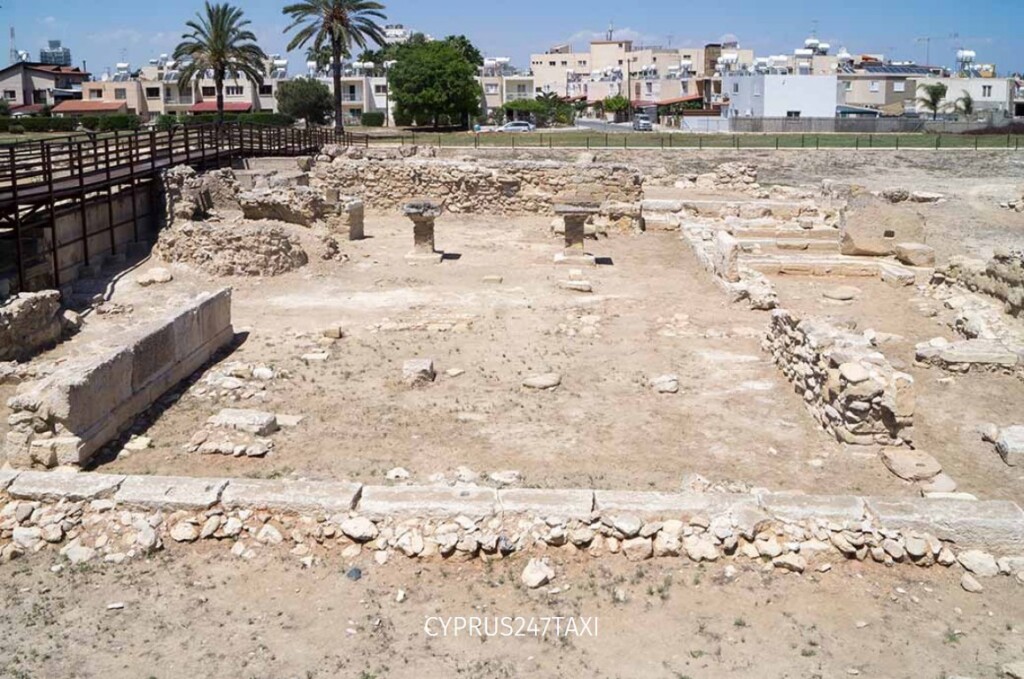 These ruins date back to the 13th century BC and are significant for religious worship and human habitation. At that time, copper smelting was an important factor for the industry, and this ruin was once a hotspot. Later the Phoenicians took control and built the temple of Astarte around 850 BC., but this too was destroyed, and now there is nothing much left to see. Tourists visiting now will only be able to see the ruins of Astarte, small temples, and an opium room. This site is magnificent, specifically for the archaeological expert tourist, as the site is now underwhelming. The site is almost 2 km away from Larnaca.
Interesting tourism spot? Why not visit there with our taxi Larnaca ride? Grab some snacks and drinks, order our taxi transfer service, and let CYPRUS247TAXI worry about how to take our valued customers there. We ensure they will reach in the least possible time.
Hire CYPRUS247TAXI for an excursion
Famagusta and Salamis Tour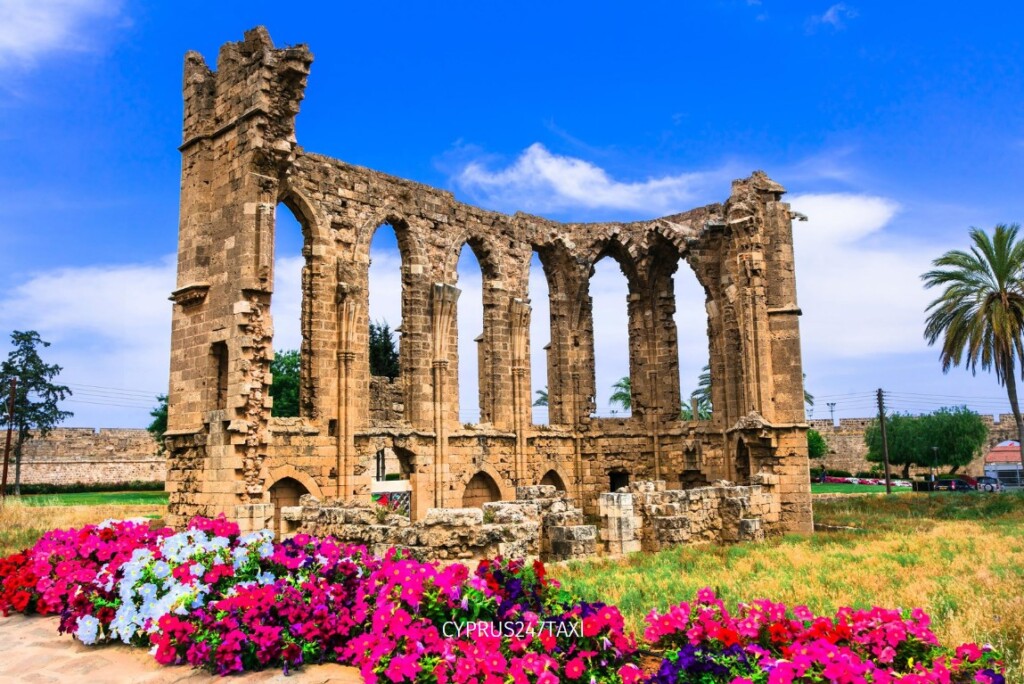 Larnaca not only holds exciting tourist spots, but travelers can also plan an excursion to enjoy the whole day on our comfortable and luxurious CYPRUS247TAXI ride. Our drivers are well-versed with all the routes, and they make sure travelers reach all the sweet spots along the way and complete their excursion successfully with our personalized taxi Larnaca rides. Here is the detail of the excursion and what tourists can expect along the way.
CYPRUS247TAXI will pick up the tourists from the designated point at Larnaca and take them to Famagusta. There they can witness the historic and beautiful landmarks of Profits Elias Church and the famous Ghost Town.
Next, the tourists will visit the Saint Barnabas monastery and the ancient city of Salamis in our taxi. Later, they will visit the Venetian fortification that surrounds the Ghost Town. They can also opt to see the Othello Castle and the Church of Saint Nicolas. There, tourists will have the time to discover the surrounding area, do shopping, and have lunch.
Then, our safe and convenient taxi Larnaca ride will lead tourists towards the beach, where they can get astonishing views of the Ghost Town along the stretch of sand and clear water. Here, tourists can relax on the beach and swim for a while. At last, tourists will visit Varosha, and finally, our taxi will head back to Larnaca and drop them off at the same meeting point.
The total excursion is 8 hours long, but the trip will not be exhausting as they travel everywhere in our comfortable taxi, and with an experienced and professional driver with excellent communication skills.
Advantages of using CYPRUS247TAXI
CYPRUS247TAXI pride in providing excellent traveling service while other only boasts. Traveling around in Larnaca without prior knowledge of the streets can be cumbersome, and the tourists may find themselves lost. Our taxi transfer helps avoid this problem. Now tourists can keep themselves away from the overcrowdedness in public transport and avoid the hassle of switching multiple buses to reach a point. Just book CYPRUS247TAXI and let our friendly taxi Larnaca driver do the rest. Here are some characteristics of why CYPRUS247TAXI is far better than other competitors, and why tourists should opt for our taxi transfer service whenever they wish to visit Cyprus.
Convenient and comfortable
It is the most obvious benefit of using CYPRUS247TAXI. Our taxi transfer services are known around Larnaca to facilitate customers with the most comfortable and convenient taxi services. Travelers do not have to wait in the long queue to get the bus, but find it right at their doorstep. We have carefully selected the top brands as our taxis where its interior is stylish, taxis are air-conditioned, and the riding experience is relaxed with minimum jerks and sudden stops giving customers the ultimate comfort.
Safe and reliable
Traveler's safety is our primary concern and we make sure our respectable riders reach their destination on time. This is why we only allow experienced drivers to accompany our customers who are well-versed around the city streets and are fully equipped with the latest GPS technology making sure not only they are on the right track, but most importantly, travelers do not get lost.
Time saving
We at Taxi Larnaca value travelers' time so we offer our premium taxi service. Our taxis guarantee to drop travelers at their location in the most efficient ways avoiding maximum traffic. Furthermore, travelers are no longer required to waste a big chunk of their precious time waiting for buses. CYPRUS247TAXI will reach their designated meeting point on time and take them to the location in the shortest time via the quickest route.
Affordable
Though our stylish taxi Larnaca looks expensive, the price in comparision to public transport is highly affordable. When customers ride in public transport, they not only waste their time waiting in the queue but also get quickly exhausted due to overcrowdedness in the bus and sometimes switching to multiple buses to reach a specific point. These factors along with other related problems accumulate to taking the wrong mode of transportation. In contrast, CYPRUS247TAXI saves a lot of traveling time, and customers can reach anywhere they want in a single ride and cut off all the crowdedness.
Customize your Larnaca taxi transfer with various options

CYPRUS247TAXI service offers customization options to our valued customers. Now they can avail of a wide range of different types of taxi Larnaca to better plan their journey. Here are some of the key uses of the customization option in our services:
Mercedes E-Class Sedan – Customers can use this taxi Larnaca for meeting somebody, especially for business or official purposes.
Mercedes E-Class W212 – This taxi Larnaca is useful for small groups of travelers or tourists and can take safely to different locations within the city with comfort
Mercedes V-Class – This taxi is extremely handy for a group of business officials to attend seminars, business meetings, etc. A large family of tourists can also use this to go for a whole day excursion or enjoy intercity trips with our skilled and experienced drivers.
CYPRUS247TAXI: best Larnaca transfer service
We pride ourselves on delivering the best taxi services in Larnaca. Our service history is filled with a plethora of happy and satisfied customers who bear witness to our quality services. The core part of our service is our talented and professional drivers who go out of their way to satisfy rider's requests at all costs. Here is what our satisfied customers have to say about why they are happy with our service:
"CYPRUS247TAXI excellent service from Larnaca airport to Ayia Napa would recommend to every traveler the best"
"After a long day traveling, it's always good to see a friendly face. John has been collecting us from the airport for many years. 100% recommend."
"One time we had a friend of our kids traveling with us and at that time Chris didn't have a 6-seated taxi. Without us asking Chris was kind enough to arrange so that a friend of his could pick us up instead with his 6-seater.
That's what I call excellent service with a smile 2 go."
CYPRUS247TAXI: Ride in our taxi and visit beautiful Cyprus destinations
Whether travelers plan for tourism or need to meet people for education or business purposes, travelers need the best transportation at hand. When it comes to time-saving and convenience, CYPRUS247TAXI is sure to put a smile on their face. Our fast taxi Larnaca can take them to multiple tourist destinations and important places. Here are some locations travelers must visit once:
Taxi from Larnaca to Ayia Napa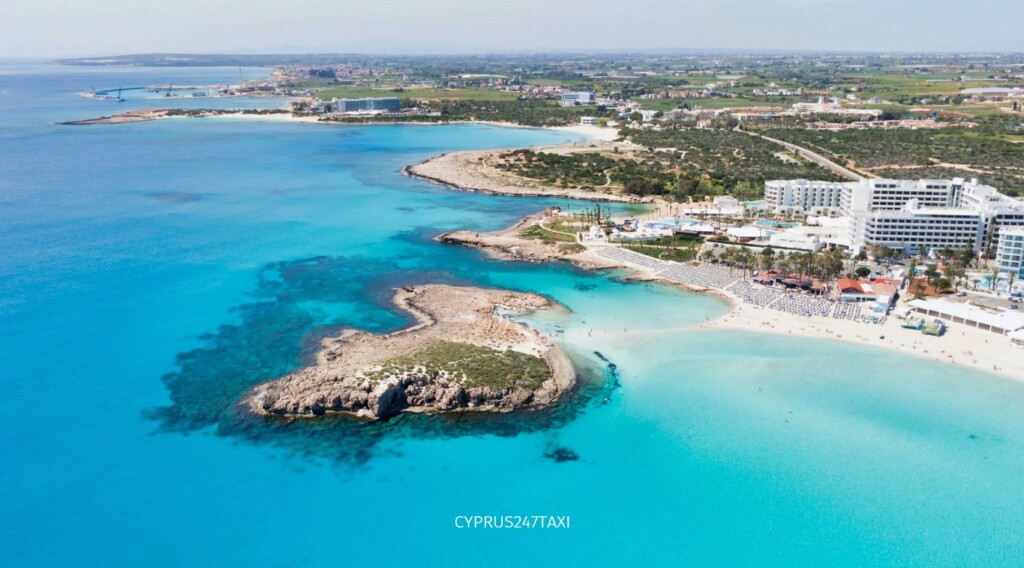 Ayia Napa lies at the eastern end of the southern coast, of Cyprus. It is known as a tourist resort and is 47 km away from Larnaca which is about 39 minutes drive. Being a tourist hotspot, travelers can enjoy beautiful beaches such as Nissi Beach and Makronissos Beach. Ayia Napa is also famous for cultural sites such as medieval monasteries and the Makronissos Tombs etc.
There are locations at the Ayia Napa that are hard to reach for travelers by public bus. Worry not, as CYPRUS247TAXI will take tourists to all the beautiful places Ayia Napa offers so travelers do not miss any sweet corner of this resort.
Taxi from Larnaca airport to Ayia Napa
If travelers plan to transfer from Larnaca airport to Ayia Napa via the airport, then CYPRUS247TAXI is undoubtedly the best choice. Our taxi Larnaca waiting for 24/7 outside the arrival gate so travelers do not need to wait for their heavy luggage. The Ayia Napa is 50 km away from Larnaca airport and takes about 40 minutes to reach, but our Larnaca airport taxi service is so reliable and comfy, travelers will find the time to fly along the way.
Taxi from Larnaca to Paphos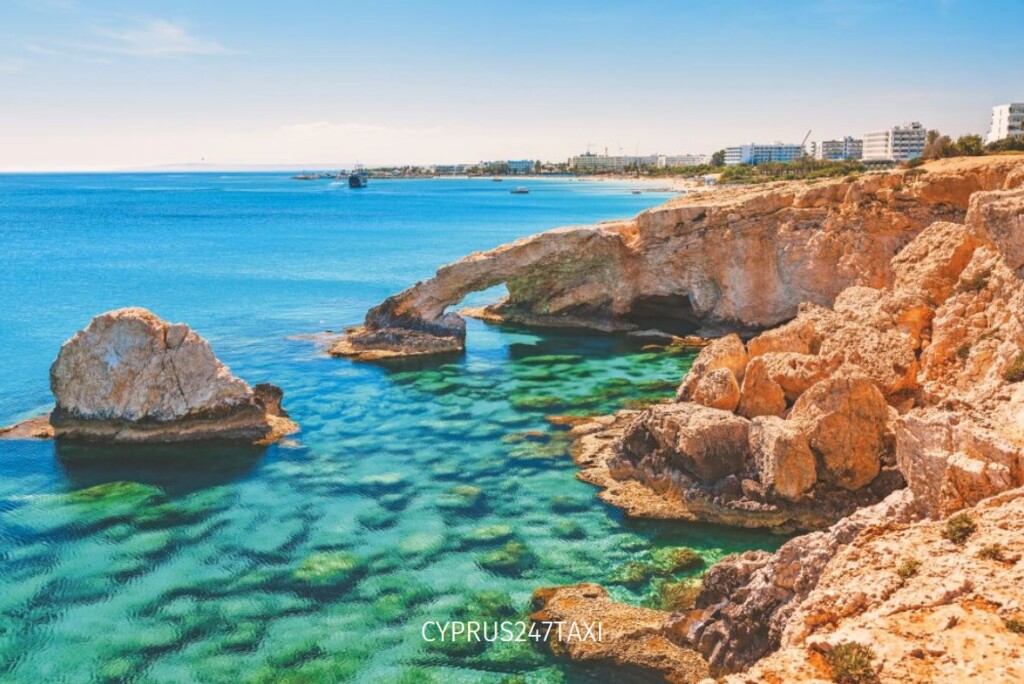 Paphos is a coastal city located in the southwest of Cyprus. The city contains some of the ancient sites recognized as world heritage by UNESCO such as the House of Dionysos and the House of Theseus to name a few. Other than this, there are ancient cultural sites such as the Tomb of Kings and Mosaics, etc. During September, numerous tourists gather here to attend the annual opera at the harbor and enjoy quality time.
If travelers plan to attend the annual opera or go for an excursion to this city, our taxi Larnaca service will be much beneficial for them. Especially if travelers are new to Cyprus and do not want to waste time finding the public bus route, they can just book our taxi and let us take the trouble to take them there safely and comfortably.
Taxi from Larnaca airport to Paphos
The distance from Larnaca airport to Paphos is 132 km and CYPRUS247TAXI will take travelers there within 1 hour 32 minutes. Hire our taxi Larnaca if you wish to transfer from Larnaca airport to Paphos with comfort ride and a friendly driver.
Taxi from Larnaca to Limassol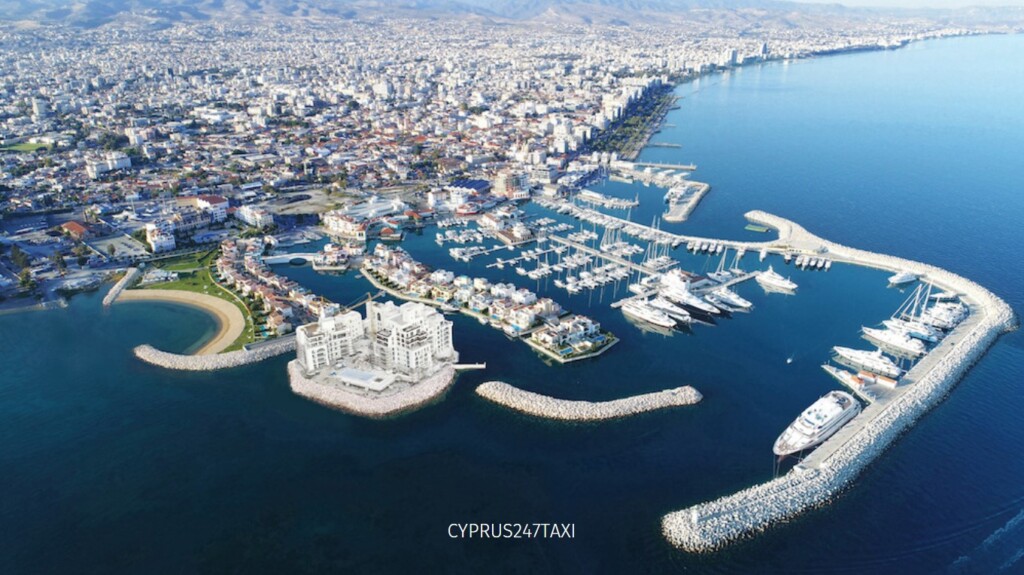 Limassol is the 2nd largest urban area right after Nicosia. The city is known for its beautiful coastal front, ancient medieval castle, and the famous Limassol castle. There is also a Folk Art Museum that holds a collection of Cypriot Folk Art that includes men's jackets, necklaces, wooden chests, and much more.
Limassol is around 67 km away from Larnaca and requires 50 minutes to get there. If travelers wish to visit these other exciting places, they can do it in a single day by hiring CYPRUS247TAXI. Our reliable and economical taxi Larnaca rides will get travelers there in the shortest time and our expert driver will also tell important and interesting facts about the places.
Taxi from Larnaca airport to Limassol
Travelers can reach Limassol directly from Larnaca from the airport via CYPRUS247TAXI. We have 24/7 standby taxis to take them right where they want to go within Limassol. If tourists take the bus service, it will not cost them much fare, but will take a lot of time to reach their destination and they may feel extremely exhausted after reaching Limassol. Therefore, taxi Larnaca transfer is comparatively comfortable and also the fastest mode of transportation.
Why CYPRUS247TAXI is the best Larnaca taxi service
We understand travelers ordering a taxi Larnaca, are looking for a quality taxi service that includes great service from both the ride and the driver. If travelers are ready for a long trip, their journey may get boring and a total waste of time and money if the taxi driver fails to entertain the customer or the car itself is uncomfortable and faulty engine. That being said, we ensure at every stage our customers feel relaxed and happy throughout the traveling duration. Here are some of the key aspects why our taxi transfer service is the best choice:
Guaranteed safety
Safety is our first and foremost priority. We understand that our customers may hesitate traveling to long distances when they have not been there before, or are new to Cyprus. Therefore, we ensure our customers that they are in safe hands. CYPRUS247TAXI drivers are skilled in communication and they make sure the customer's journey is safe. To achieve satisfaction, our taxi Larnaca drivers choose the best route to take customers to their location and keep in touch constantly to make them feel at home and as if they are talking to their friends. The ride itself is 100% fit to travel anywhere and the level of comfort is matched every time customers book our ride.
Cleanliness
Nobody likes to ride in a dirty taxi full of lumps in the sitting area. Before sending any taxi Larnaca to our customers, our experts cross-check whether the taxi is clean, free from dirt or stink, and that the seats are comfortable.
Local Knowledge
All CYPRUS247TAXI drivers are well-versed with local knowledge and updated about the latest news or notifications. This helps them plan the route accordingly, and take shortcuts where possible while avoiding traffic jams, roadblocks, or any strikes.
FAQs
How to order a taxi Larnaca airport to an airport?
Ordering a Larnaca airport taxi is very easy and it can be done with a few simple steps. Here is how travelers can order CYPRUS247TAXI:
Book the arrival route from the airport
Choose CYPRUS247TAXI and select one taxi Larnaca vehicle.
Specify other additional options
The ride is booked. Now let us do the rest.
Which airports are close enough for a Larnaca taxi ride?
There are 3 airports closest to Larnaca and travelers can order a taxi Larnaca airport from any of the below airports. Here are the details of the 3 airports:
Larnaca (LCA) – It takes 16 minutes to reach from Larnaca and 10 minutes minimum via taxi and the distance from Larnaca city is 9 km.
Ercan (ECN) – This airport is 43 km away from Larnaca and requires a 1 hour 16 minutes drive via bus or car.
Paphos (PFO) – This is the farthest of the two airports from Larnaca. It is 125 km away from the city and takes 3 hours 47 minutes to reach there.
How will I find my taxi from Larnaca at the airport?
The traveler arrives at the airport
Our Larnaca airport transfer along with the driver will be waiting for that passenger holding a signboard with his/her name on it.
The passenger meets the driver and then heads toward the parking
The traveler gets into the taxi and heads toward the destination in CYPRUS247TAXI.
When can I book a Limassol taxi?
There is no specific booking time. CYPRUS247TAXI booking portal is online, and travelers can book their rides 24/7.