Paphos holds Cyprus's major landmarks like churches, castles, archaeological sites, and much more. Explore Paphos, full of wonderful tourist spots, with CYPRUS247TAXI, the only reliable and affordable Paphos Taxi service in Paphos.
Paphos Taxi: Distances and Times from Paphos from/to Other Places
| | | |
| --- | --- | --- |
| Route | Duration | Distance |
| PAPHOS <> AYIA NAPA | 1 hour 30 minutes | 179 km |
| PAPHOS <> LIMASSOL | 50 minutes | 57 km |
| PAPHOS <> LARNACA | 1 hour 27 minutes | 133 km |
| PAPHOS <> NICOSIA | 1 hour 43 minutes | 153 km |
| PAPHOS <> PROTARAS | 2 hour | 188 km |
| PAPHOS <> TROODOS | 1 hour 14 minutes | 79 km |
| PAPHOS <> LARNACA AIRPORT | 1 hour 25 minutes | 134 km |
| PAPHOS <> PAPHOS AIRPORT | 20 minutes | 14 km |
Why Paphos Taxi?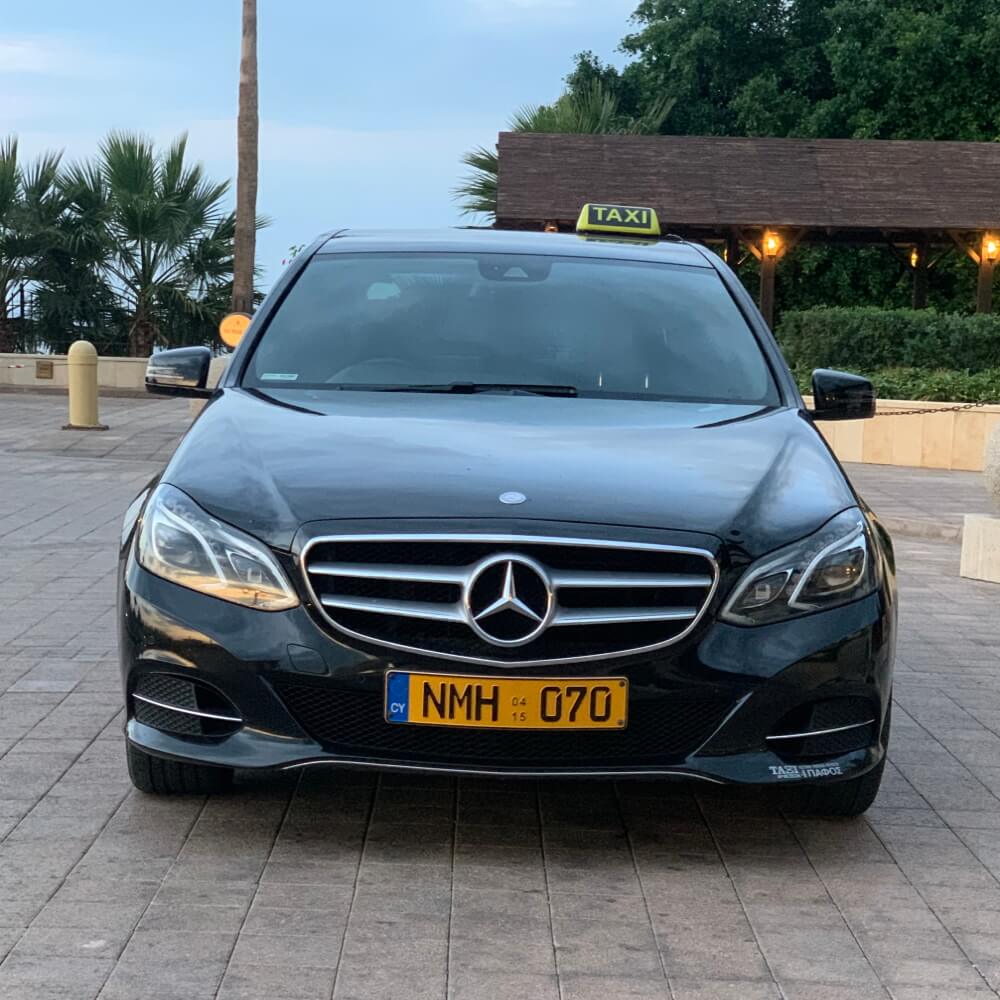 Paphos, the southwestern republic of Cyprus, is home to numerous castles, churches, and archaeologically significant sites such as the Tomb of the Kings. As you meander around in our Paphos taxi, you will find that this coastal city of Cyprus has exotic SODAP and Faros beaches with crystal clear and clean water, the birthplace of the famous Greek Goddess Aphrodite, whose gardens and temples portray Greek culture all around the city. The Paphos is renowned as a World Heritage Site by UNESCO. Although there is more the city has to offer, these tourist spots compel tourists from all over the world to visit every corner of this beautiful city and be amazed.
Though there is much to explore and make your trip worth the price, getting there safely, timely, and comfortably is a dilemma for every tourist. This is where our Paphos taxi service comes in. Not only our taxis are comparatively comfortable, safe, and economical, but our Paphos taxi drivers are also evenly professional and experienced, and ensure your trip goes well throughout the journey.
Traffic jams are one of the big problems in Paphos. This is due to overcrowdedness, especially during the tourism season. The bulk of tourist visit here and linger for some time to explore famous places. This mass number of tourists combined with the natives increases the number of vehicles on the road and jam-packed buses. The authorities strive hard to overcome the issue but worsen the problem by commencing multiple road development works causing congestion. Road accident is yet another issue for traffic jams. On the contrary, since our Paphos taxi drivers are well-versed and updated about the current road issues, they will take the shortest possible route with the least amount of traffic to make sure your time isn't wasted and you make the most out of your day.
Given the current circumstances, it is impossible for tourists to opt for public transport and have a safe and comfy journey, forcing them to opt for Paphos taxi services. These are comparatively the most comfortable rides with experienced natives who know every shortcut of the city. The use of Paphos taxis has mushroomed in Cyprus as tourists can avoid long waiting times for the buses and getting stuck in gridlock.
While there are many taxis in Paphos, you can always bank on CYPRUS247TAXI as the best Paphos taxi service. Our veteran drivers have managed to take their clients safely anywhere without troubling them with the hassle of traffic issues. No matter how long your journey is, our friendly, honest, and humble Paphos taxi drivers will ensure your ride is not as dull as the dishwasher, and your time will pass out with a wink of an eye. If you do not want to get stuck in a traffic jam or wait in long queues, CYPRUS247TAXI is your solution to a better journey wherever you go.
Why CYPRUS247TAXI is better than public transportation?
If you are planning to hit the road to the famous areas as a tourist, we suggest using a taxi in Paphos provided by CYPRUS247TAXI. The other mode of transportation in comparison have fixed schedule and decided routes which consumes much traveling time. Taxis, on the other hand, are available whenever you want and can get you anywhere in a single trip. Also, we have different types of vehicles suitable for traveling to any land terrain. From high-class Sedans to vans, we got your traveling issues resolved.CYPRUS247TAXI is available 24/7 at your service. Feel free to book and select your desired Paphos taxi services at affordable rates. Have any queries? You can contact our expert customer support, and we will be happy to guide you about the Paphos taxi prices, clarify any ambiguities regarding our drivers, and even suggest the type of Paphos taxi suitable for your journey.
Why CYPRUS247TAXI Is The Best Taxi Service In Paphos?
Traveling via bus in Paphos to long distances comfortably and in the least time is impossible, so hiring a taxi in Paphos is the best alternative. Unfortunately, travelers are dissatisfied with the poor Paphos taxi services in the city. There are multiple taxis in Paphos but does not provide quality service delivery for many reasons.
Travelers should be shrewd while dealing with taxi drivers. Travelers can also contact the transport authorities if drivers misbehave with them. They impose heavy fines on Paphos taxi drivers and even cancel their licenses for misbehaving.
Travelers have also complained about being mugged by Paphos taxi drivers. Similar to other countries, the criminals disguise themselves as taxi driver and later rob the tourists on the road. Although the rates of crimes are low, travelers need to keep a wary eye on this situation.
We at CYPRUS247TAXI ensure our clients do not experience these issues because client satisfaction is always our top priority. We select our Paphos taxi drivers carefully and monitor their performance on how they communicate and charge the fare. We have provided Paphos taxi services to our clients for ages and have established credibility. We ensure you will feel a drastic difference hiring a Paphos taxi from our company. CYPRUS247TAXI promises you will have a safe, comfortable, and trouble-free journey all along your way.
Hire Taxi In Paphos For Intercity Trips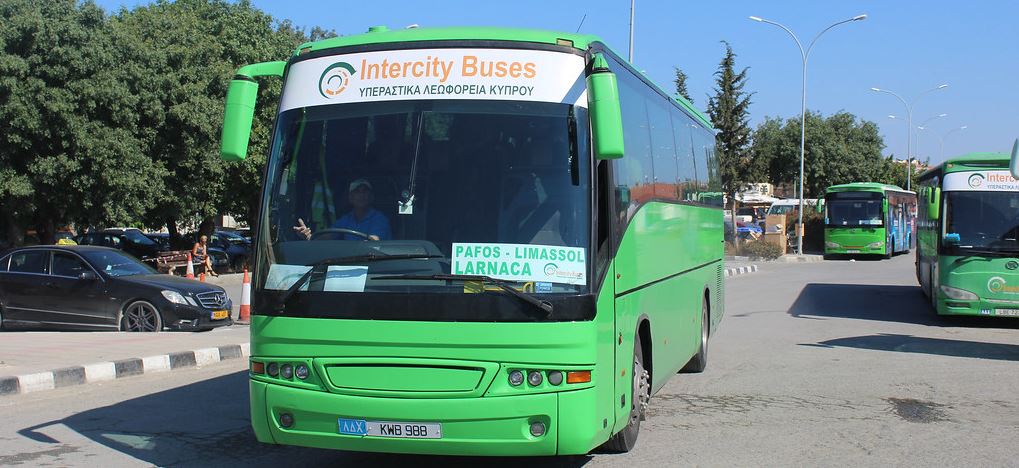 When you plan to visit multiple cities from Paphos via bus, it can be troublesome. Paying less travel fees might be a good idea for short distances, but for distant trips, it is better to choose the best Paphos taxi service. It's because locals are also disappointed by their service, and they whine about it over and over again, which logically makes Paphos Taxi the best alternative transportation.
One of the issues regarding poor bus service for intercity trips is punctuality. The bus's arrival and departure and tardy, so the travelers keep waiting. If you are new to Cyprus and planning to visit cities via bus, you may reach late to your destinations. The buses are poorly-maintained. Their physical condition is worn down, the windows do not function well, and the seats are uneasy. Disappointing right? Why not hire our Paphos taxi and avoid delays in your travel? Now taxis have dominated the conventional traveling method and tourists are now preferring them over public transportation.
The bus drivers often do not allow you to carry any small hand-carry bag to put your valuable stuff, so the travelers keep their mobiles, passports, wallets, etc., in their hands.
There is also a misbehavior concern by the bus drivers to the passengers. They start arguing with passengers about petty things and pollute the bus environment. The argument elongates a lot, and other travelers suffer due to the wastage of time. They are unthreatened even when any passenger warns about the complaint to the authorities. This is not our case. Our friendly Paphos taxi drivers are experts in communication skills. They understand your pain points and do their best effort to eliminate your problems.
Although there is a fixed bus schedule, the drivers mostly do not follow them. The tourists and the locals wait too long at the bus stand. A crucial point is that the buses generally stop operating after evening, so if you are late, you should pick up a Paphos taxi or hire a rental car service.
Is it too much to handle on your trip? Hire a Paphos taxi from CYPRUS247TAXI, and let us put your traveling issue to bed. Our friendly and helpful Paphos taxi drivers make you feel safe and relaxed throughout the journey through excellent communication. Our Paphos taxis are well-maintained and checked before sending them to every customer. We take punctuality seriously. Whatever time CYPRUS247TAXI commits, we will follow it and arrive on time when you need it. We will ensure you are gratified and that your trip in our Paphos taxi is memorable. Your satisfaction is our top priority.
CYPRUS247TAXI Is The Best Bet To Visit Timeless Landmarks
In Paphos, you will find archaeological sites, a beautiful harbor, and many landmarks to explore around Paphos. To help you better explain Paphos landmarks, here are some locations that you must visit while coming to Paphos.
Tomb Of The Kings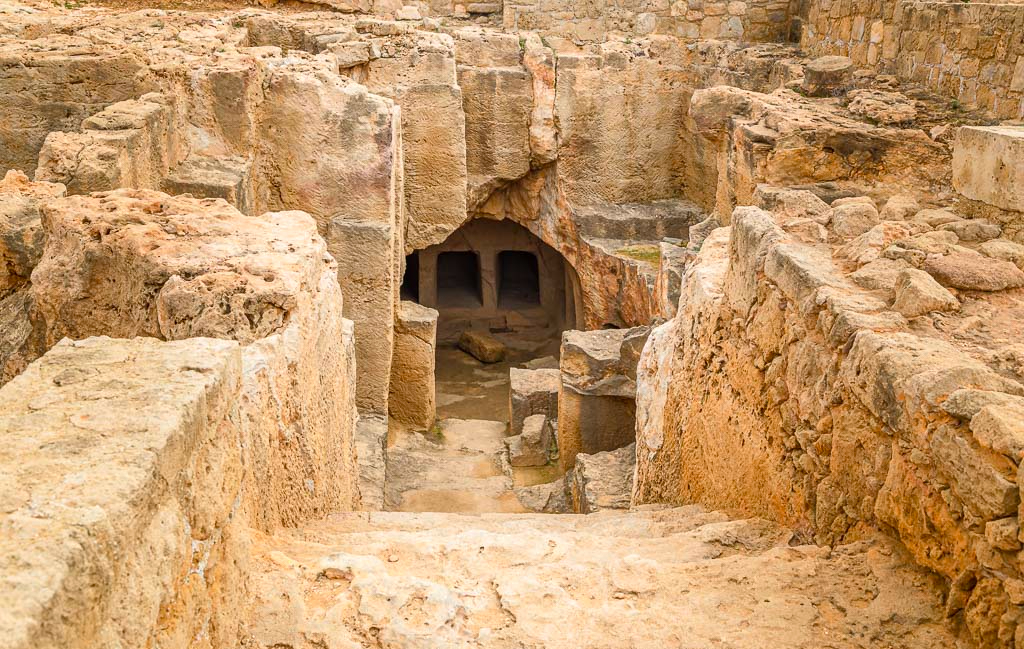 The ancient landmark lies in Chioraka, Cyprus, and is 2 km from the center of the Paphos. Once you reach there, you will be amazed to see the main entrance and astonished to find out how vast is the Tomb of the Kings from the inside. You will find snake trails which is thrilling. Following the trails, you will reach the ancient burial site spread over 320,000 square meters of ground. The main tombs are underground and carved out of solid rock in the fascinating shape of houses. It may not please you, but it was once the home of the wealthiest aristocrats.
Want to visit it right now? Hire CYPRUS247TAXI, select your desired taxi in Paphos, and let's hit the road. We will take you there in no time in a comfortable Paphos taxi so you can enjoy all you want, and get back safely to your hotel.
Agios Neophytos Monastery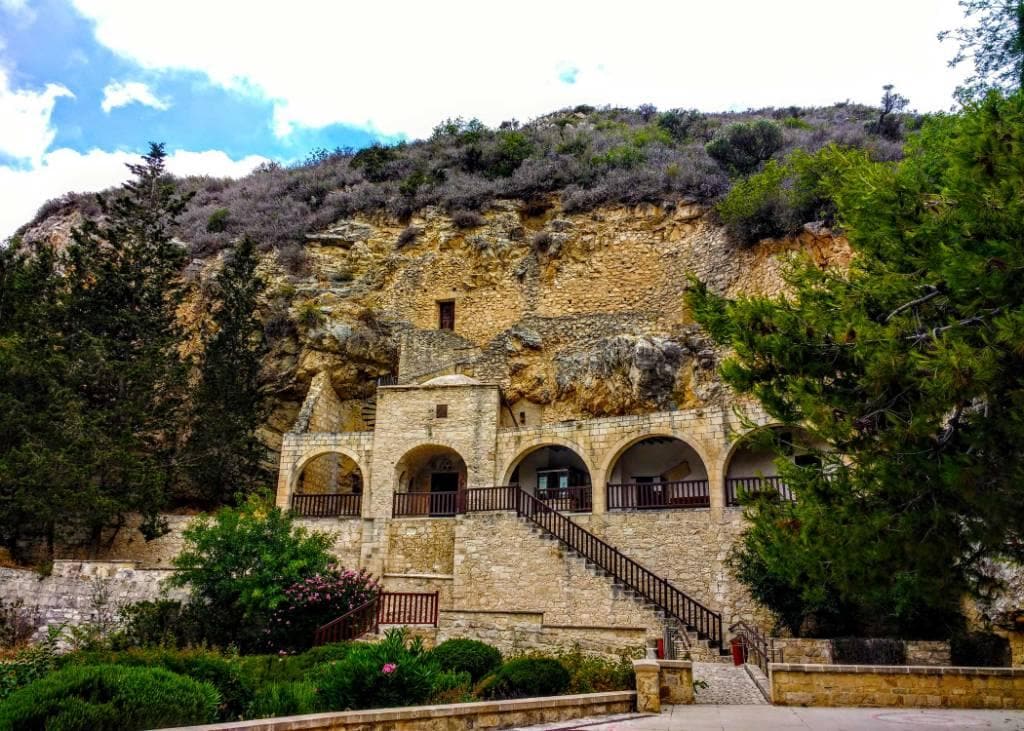 This beautiful landmark lies 10 km west of Paphos. Named after the Saint Neophytos Monastery, a famous Cyprus monk, it was established in the 12th century. Initially a cave, it grew into a larger chapel with space for small monks. The monks would visit the monastery to join Neophytos for an ascetic lifestyle. There is a museum with frescoes and paintings to give you an idea of the lives of these believers.
You can get here via our Paphos taxi. Our drivers are well-versed around the streets and know all the shortcuts to take you there as quickly as possible. Especially on holidays, there is gridlock, and it is troublesome to reach anywhere on time. Our experienced Paphos taxi drivers have been driving for a long time, so they know every corner of the Paphos. Ride with us and have a whale of a time.
The Paphos Mosaics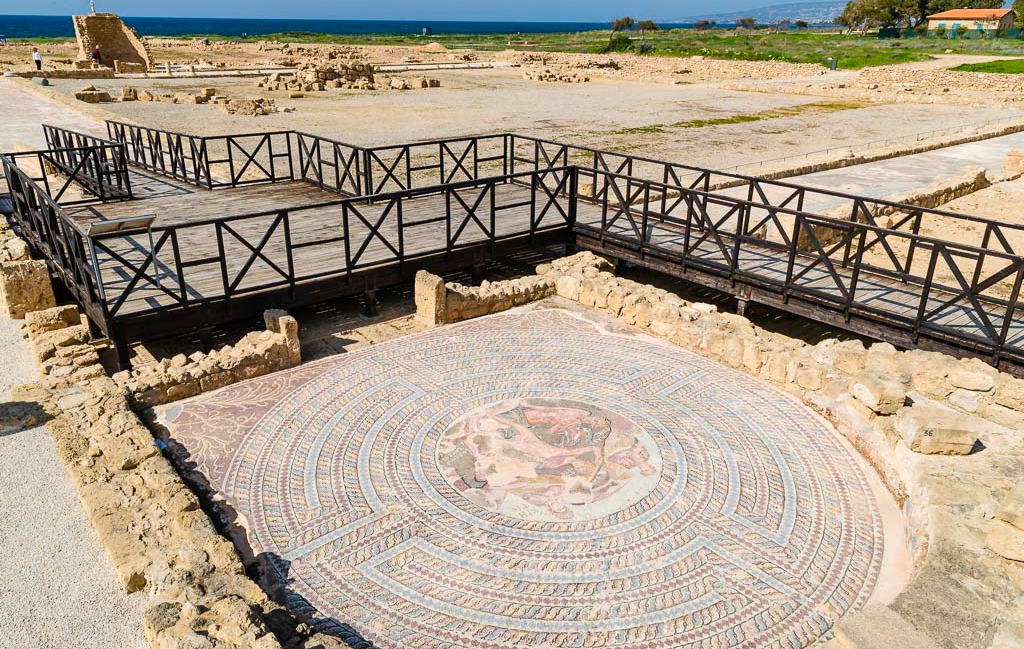 This Paphos Mosaic is a remarkable depiction of Roman and Greek culture. This invaluable art dates back to the Byzantine and Hellenistic eras, and they served as floor coverings in houses. Undoubtedly, this mosaic is a part of the World Heritage. There are five types of mosaic floors with different themes, and each theme presents gods, goddesses, battles, and daily life.
The Paphos mosaic is almost 4 km from the Paphos center, but CYPRUS247TAXI can get you there within 5 minutes or less. Our Paphos taxi is luxurious, comfortable, and fast, which takes far less time to reach the mosaic floor than the bus and does not hit the sack.
Roman Odeon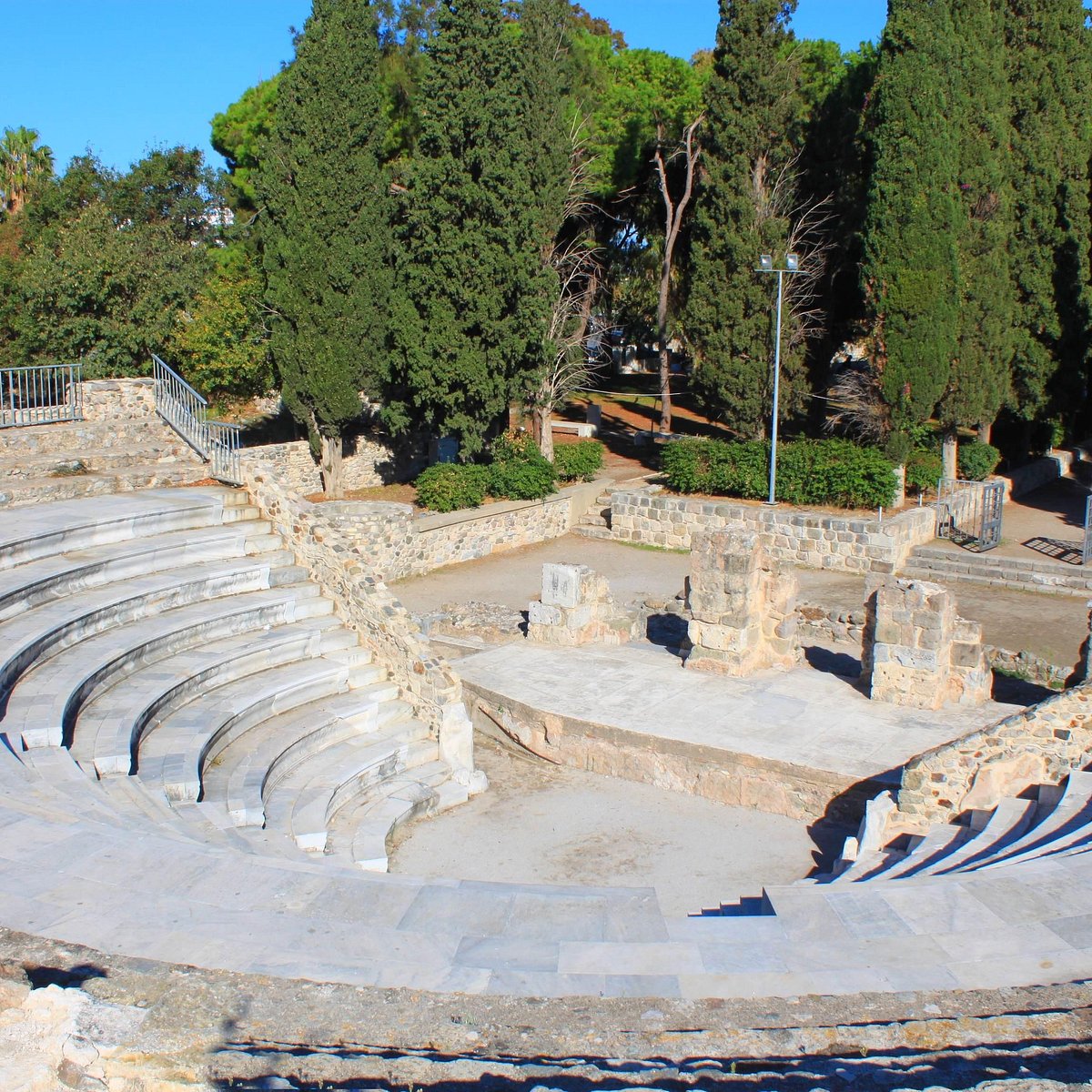 This Paphos Ancient Odeon or Roman Odeon is another extraordinary landmark in the Paphos Archaeological Park. It has 12 stone seats made with limestone at the Fabrica Hill site, Nea Paphos.
This splendid archaeological site is 3 km from Paphos Center, and you can get there on time via CYPRUS247TAXI in 5 minutes. The location is quite elusive, but our experienced Paphos taxi drivers will gladly guide you to the actual path. So why not book a ride at CYPRUS247TAXI and get to Roman Odeon?
Villa of Theseus
The villa of Theseus is almost 4 km and takes tourists about 4 minutes to reach there via car. This Roman villa dates back to the 3rd century and had 100 rooms. But the focal point is in its mosaic floors, out of which one is famous for depicting the Athenian king fighting a minotaur.
Upon looking closely, you can witness the rework done on the mosaic floor several times. This is due to the damage caused by historical earthquakes that shook Cyprus. It is an exciting archaeological landmark for tourists with some knowledge about history, and the comfortable way to get there is only via Paphos taxi from CYPRUS247TAXI. Be there on time via our luxury taxi in Paphos, live up to the moment, and return safely.
Hire CYPRUS247TAXI for a fantastic excursion
Paphos has famous places to visit and exciting spots to go for excursions. Our Paphos taxi drivers know every location worth your trip, price, and time. We can offer you some excursions that you will like. Here is one of the excursions that tourists demand the most when hiring a Paphos taxi via CYPRUS247TAXI.
Blue Lagoon (Akamas)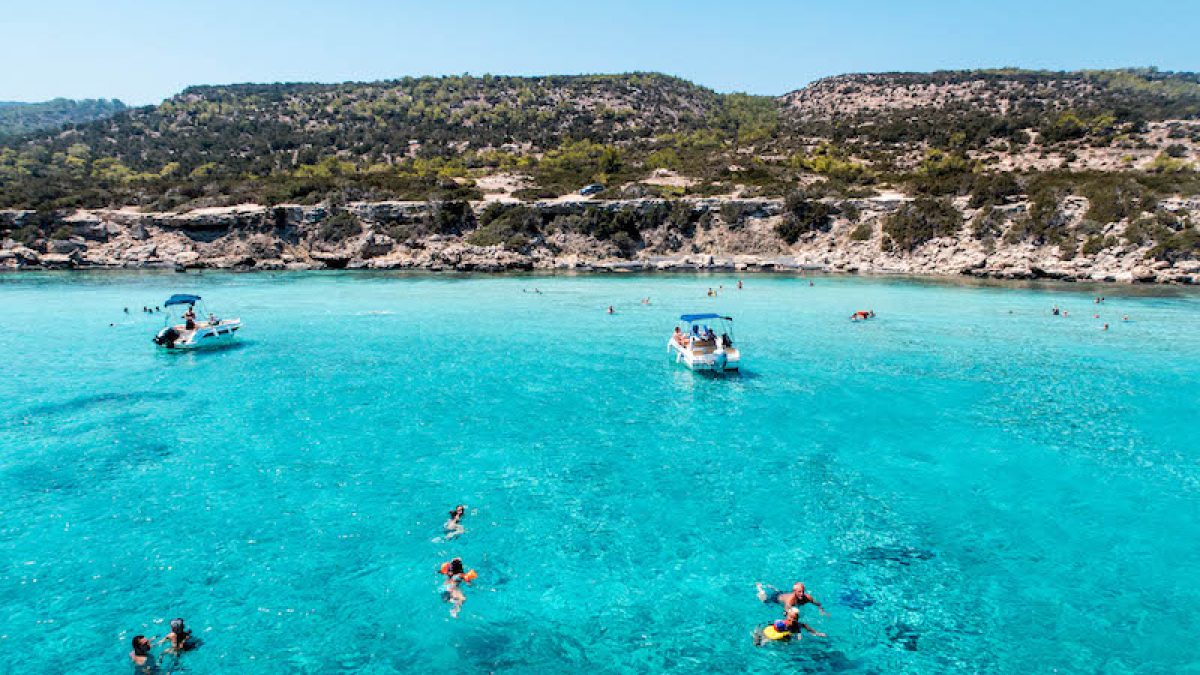 It is a full-day excursion where you will visit several places along with the famous Blue Lagoon. It is situated in the Northwest cape of the Akamas National Park and is 50 km from the central Paphos. You can either order an excursion from tour operators, or drive through the points yourself using our taxi. Our driver will pick you up from your meeting spot and drive to our first stop, Edro III Shipwreck. It ran aground on October 8th, 2011, in heavy seas while on a voyage. It is around 2300 tons in weight and is 80 meters long. This spot is for taking selfies, and you will have sufficient time to view the shipwreck.
Then comes the Sea Caves, 17 km from central Paphos. It is considered a beautiful landscape and a fantastic place with interesting geological and biological features. It is also the home to the only region in Cyprus to grow bananas. You can stay here and explore the sea caves and take plenty of selfies and capture jaw-dropping views of the caves.
Next is Blue Lagoon. This lagoon is in Akamas and is the most popular place in the region for thousands of visitors. The specialty of this lagoon is that the water is crystal clear, and you see the underlying sea bed. Swim, snorkel, or bathe in this lagoon to your heart's content with unlimited entertainment.
The next is Latchi, a small village and tourist fishing hub. Furthermore, fishermen grab fish from here and sell them to the market.
Ever heard of the Baths of Aphrodite, a UNESCO World Heritage? It is a shady garden with a grotto where water goes down a rock wall and creates a pool. Legend says Aphrodite would bathe here and found her lover Adonis at the pool when he was drinking water from it.
Then comes Polis, a small village known for the finest dining experience with finger-licking-good and irresistible meals.
The last locaion is Stroumbi, situated in the heart of Paphos district. Not only you can drink fine wine and taste delicious sweets, but you'll also have the opportunity to buy some olive oil cosmetics as a souvenir to take home and make your trip memorable. Finally, our Paphos taxi driver will take you back to your starting point.
Perks Of Hiring CYPRUS247TAXI
CYPRUS247TAXI has been in customer service for a long. Our team witnessed the taxi service industry in its last legs, so we aimed to revolutionize the old-fashioned way the clients travel. The aim and mission of CYPRUS247TAXI are to provide excellent Paphos taxi service at the most inexpensive pricing that does not scare away customers. We prioritize customer satisfaction above anything else and pride to see travelers smiling after using our service. There is fierce competition going on about taxi services in Paphos but few deliver such services that passengers admire. Planning to spend holidays in Paphos? hire CYPRUS247TAXI. This is why you must choose the best taxi in Paphos when it comes to traveling:
Convenient And Comfy
CYPRUS247TAXI is known to provide very comfortable Paphos taxi rides to its customers. We check our vehicles periodically and also every time sending to every client so that their journey is smooth and relaxed. CYPRUS247TAXI has a wide range of taxis in Paphos from super luxury cars to spacious vans for groups of people. Each of these cars is available for different types of uses. All of our Paphos taxis are fully air-conditioned and have soft and cozy seating arrangements. Whether it is your business meeting or you have planned for excursions with your family, you can always count on CYPRUS247TAXI and have a pleasant ride.
Secured and reliable
Our drivers are immensely concerned about passengers' safety and reliability. Our drivers are professional, and you need not worry anymore and ponder whether the Paphos taxi driver is a thief or robber disguised as a taxi driver. Our drivers are well-informed about the roads of Paphos, and they do their best not to get you stuck in a traffic jam. Our service is most trustworthy as compared to the conventional bus system.
Time-saver
Your time is important to us, and we make sure you always get to your destination on time. To let you reach your destination as quickly as possible, all of the Paphos taxis in CYPRUS247TAXI have the latest GPS, which informs the driver of its destination and shows the shortest route with minimal traffic. As you ride with CYPRUS247TAXI, you can bet on avoiding unnecessary long traffic jams and reaching your spot on time.
Inexpensive
No matter what Paphos taxi service you find in the city, you will always find CYPRUS247TAXI at modest prices. Though we have reduced our taxi prices to meet our client's budget, providing high-quality Paphos taxi services has never been compromised regardless. You will find our fares reasonable compared to other service providers. Though the bus charge is extremely low compared to taxis Paphos, most of the travelers have complained about tiry journey, too much waiting for bus arrival or departure, and the rude behavior of bus drivers. On the contrary, you need not worry about these issues by hiring us. Book CYPRUS247TAXI now and travel anywhere in Paphos at budget-friendly prices.
CYPRUS247TAXI Offers Paphos Taxi Customization
We at CYPRUS247TAXI know there are different types of vehicles for various purposes. You do not want to reach tourist spots with your family or friends in a super luxury car. Similarly, it is unsuitable to attend a business meeting in a van. This is why you can avail of any taxi in Paphos from our wide range of car/vehicle that suits your requirement. We offer the following customization option for your specific visit.
Mercedes E-Class Sedan – Best for business or educational meetings.
Mercedes E-Class W212 – The right option for a small group of friends or family members for picnics.
Mercedes V-Class – It is the perfect bet for business travelers who are going to seminars or attending meetings, it is also helpful for any excursion service.
CYPRUS247TAXI – Unquestionably Best Paphos Taxi Service Provider
CYPRUS247TAXI has a proven success record with many satisfied customers. We have carefully examined the existing poor Paphos taxi services given by the majority of service providers in the city. This required the need to have a taxi that is budget-friendly, reliable, and trustworthy Paphos taxi facility.
CYPRUS247TAXI is proud to present its offers to the valued customer. If you still have not made up your mind, look at what others say about us after using the taxi in Paphos.
"This is the first time we have been to Paphos, Cyprus. I hired CYPRUS247TAXI to stay at Paphos with my wife and 2 kids and the traveling experience was amazing. At first, the prices shook me compared to the bus fares but I say it was worth our money. Would recommend CYPRUS247TAXI to everybody"
"CYPRUS247TAXI is worth traveling into either with family or alone. I was kind of nervous at first but the driver was so friendly and helping I realized time flew so quickly as the trip ended. 100% recommended."
"As our day began to visit Paphos's historical landmarks, we realized that today the traffic is seriously jam-packed and there is no hope we would visit the places. Hopefully, we hired CYPRUS247TAXI. Steve was our driver and he was very experienced to decide which route will be feasible to travel. He even helped us load and unload our luggage in the taxi. Will hire CYPRUS247TAXI in future when we visit again."
Reach Out To Multiple Cyprus Destination With CYPRUS247TAXI
There is so much to visit from beautiful lagoons to historic and jaw-dropping archaeological landmarks. Many tourist spots are far-flung from Paphos and require one day to reach. It will be a fool's errand to opt for a bus rather than a Paphos taxi as it will consume substantial time. On the contrary, CYPRUS247TAXI is the only option available. Reach Ayia Napa, the tourist hub, or the city of beautiful coastal fronts, Limassol, and many more. easily at affordable prices, and on time via CYPRUS24TAXI.
Taxi From Paphos To Ayia Napa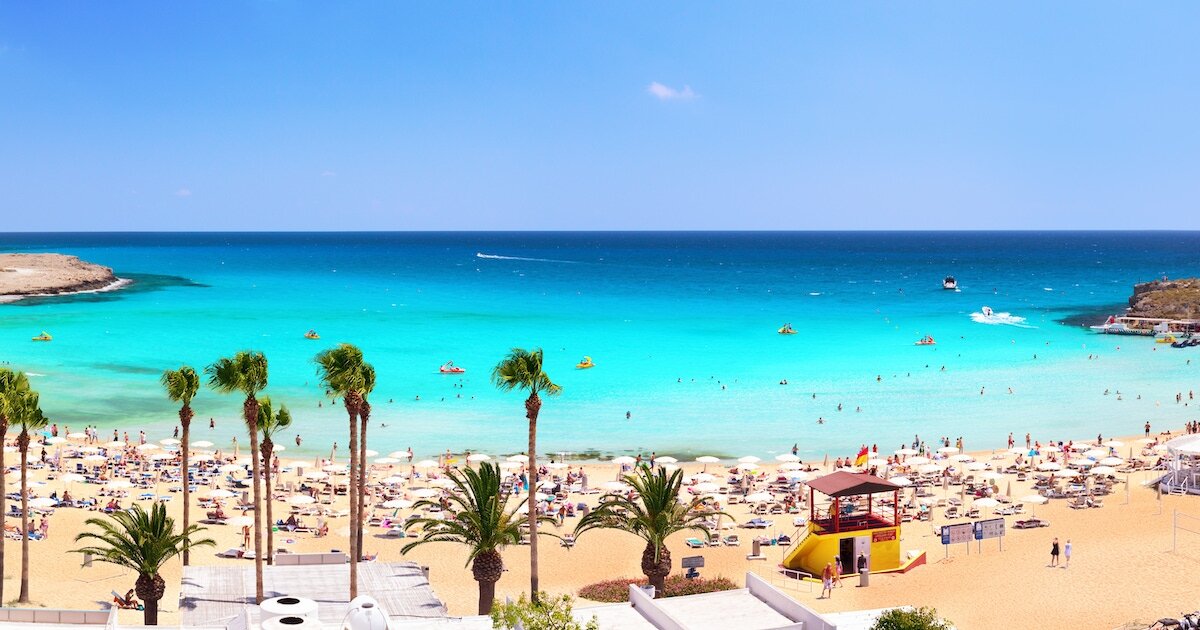 Ayia Napa, named after Greek St. Napa, is on the southern coast of Cyprus. It is a tourist hub and is about 180 km away from Paphos. Among 12 different beaches here, you can relish beautiful Makronissos and monasteries from the Greek and Roman eras. For tourists fond of hangouts, Ayia Napa has mind-blowing nightclubs that take the entertainment to another level. Ayia Napa was merely a woodland, which evolved into a beautiful tourist spot. Interestingly, Ayia Napa is the home of the largest cactus parks in Europe.
When you hire a taxi from Paphos to Ayia Napa or a taxi from Ayia Napa to Paphos, you will discover there is too much to explore. Traveling on a bus to get to Ayia Napa may consume all day, and you might miss tourist spots. Though the Paphos to Ayia Napa taxi price is expensive compared to the bus, hire our tax in Paphos from CYPRUS247TAXI now and reach Ayia Napa in less than 1 hour and 30 minutes. We ensure your trip in our taxi from Paphos to Ayia Napa will be very cozy and unmatched by others.
Taxi From Paphos To Limassol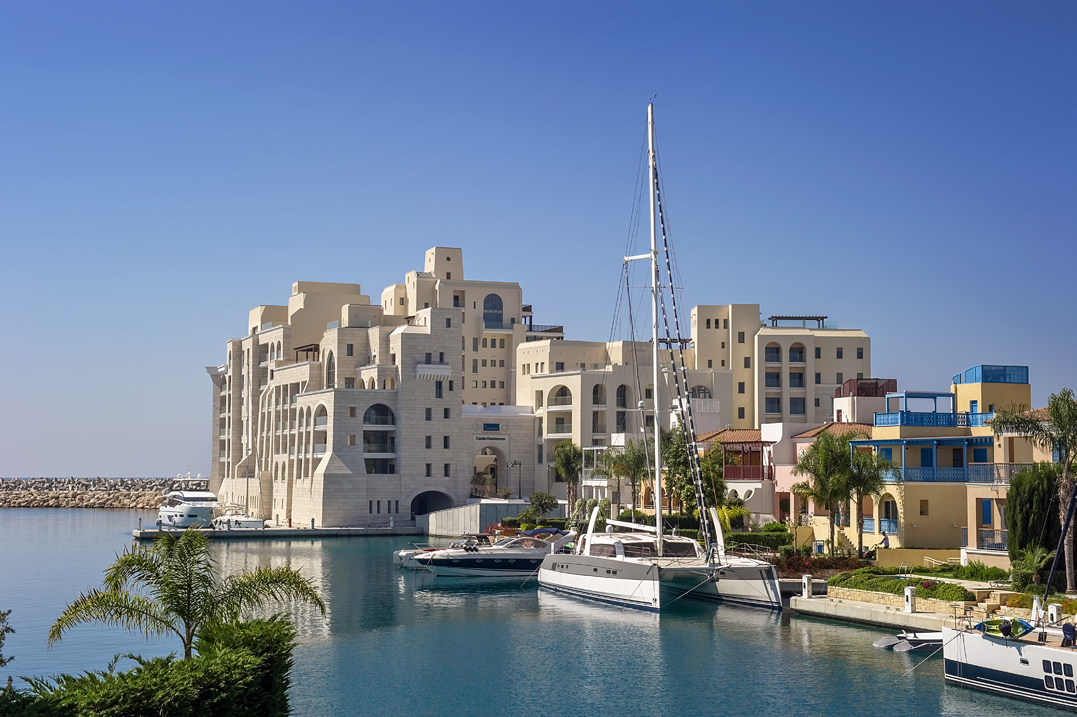 Limmasol, the 2nd largest urban city, is home to exotic coastal fronts and castles. If you are fond of the museum, you can visit Folk Art Museum to see men's jackets, wooden chests, necklaces, etc. The place also has beautiful parks and landscapes for a memorable evening, so do not lose your chance.
If you plan to visit Limassol, refrain from taking the bus to avoid wastage of time. Though Paphos to Limassol taxi costs are low-priced, a major portion of your day gets wasted on traveling. CYPRUS247TAXI offers a better service for taxi from Paphos to Limassol at affordable rates. Our taxi in Paphos is fully air-conditioned, and you will never get bored during the trip as our is there to talk with you and cheer you up all along the way.
Taxi From Paphos To Nicosia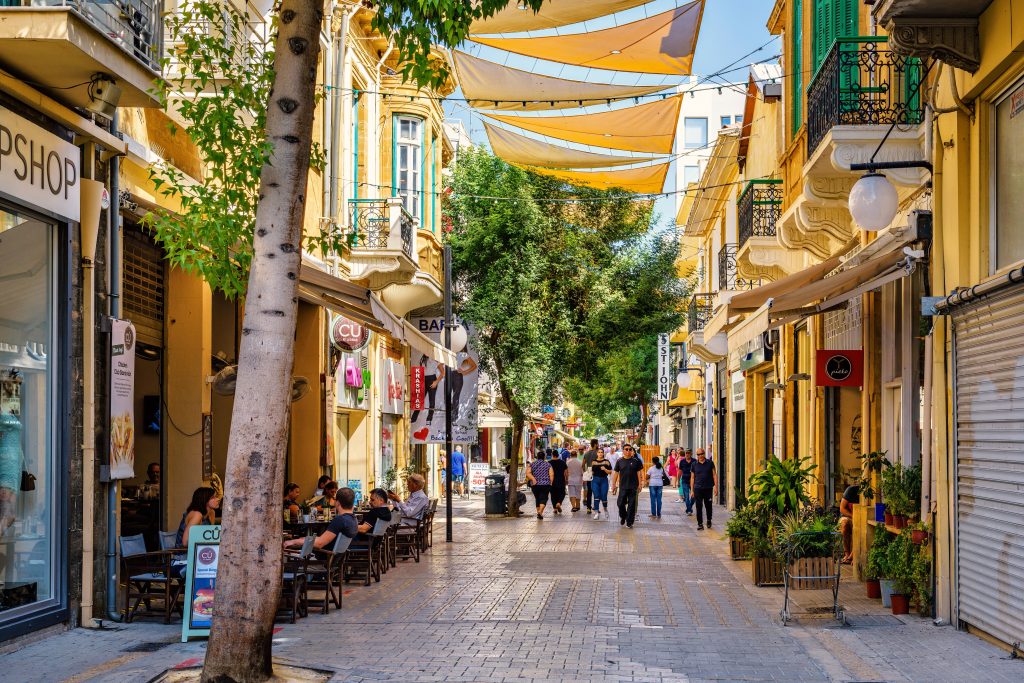 Nicosia, the largest city on the island, is the capital city of Cyprus since the 12th century. In 1964, the city was divided by the Turkish and the Geek Cypriot communities, and it is still the world's only divided capital. It is home to archaeological museums and fascinating history. The place is known for the Byzantine Museum, the largest and the oldest in Nicosia. Other places to visit are the Gothic Cyprus church and a cathedral converted into a mosque.
It is a historical landmark for tourists in Cyprus. Nicosia is approximately 154 km, and there is no better way to get there quicker than Paphos taxi at CYPRUS247TAXI. Whether you hire a taxi from Nicosia to Paphos or a taxi from Paphos to Nicosia, the average trip will require 1.45 hours. But our luxury and fast Paphos taxi will drive you there in lesser time. As for the Paphos to Nicosia taxi price, the charges may vary between service providers. If you want to hire Paphos to Nicosia taxi, we have a wide range of cars to choose from and ride wherever you wish to go.
Taxi From Paphos To Larnaca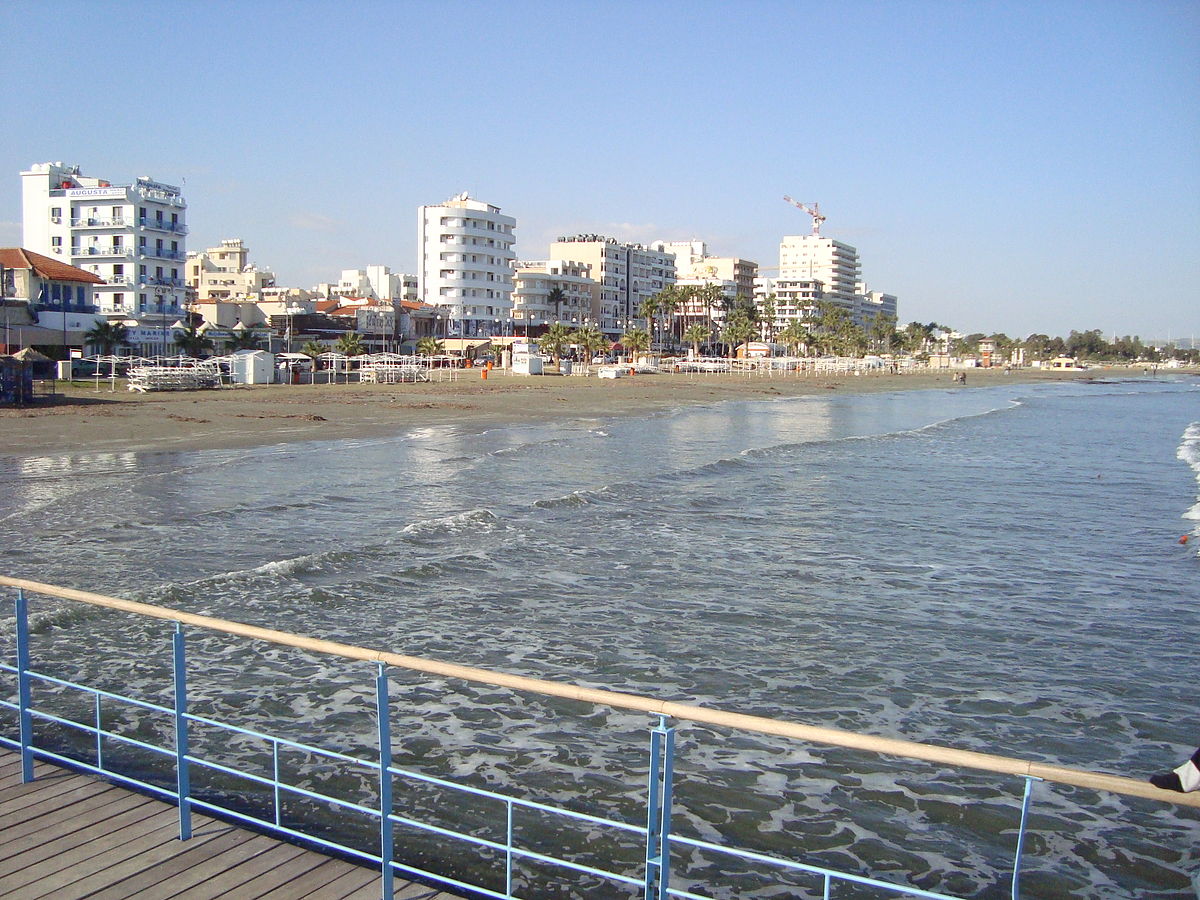 Larnaca is the 3rd largest city and home to big airports in Cyprus. Faros Beach, Kastella Beach, or the CTO Beach, etc. are beautiful places to spend your holidays. If you are fond of history, you can visit the Ancient Kition, a 13th-century BC archaeological site, or the Hala Sultan Tekke mosque built in 1816 by Muslims. Want to enjoy nature? Get mesmerized by the sunset at beaches.
There is so much to explore but have a shorter time to visit each spot. Hire Paphos to Larnaca taxi from CYPRUS247TAXI at a budget-friendly price. If you are wondering how much is a taxi from Paphos to Larnaca or curious about the average Larnaca to Paphos taxi fare? It varies depending on your destination within Larnaca but taxi Paphos prices are affordable. Our Paphos taxi drivers know all the routes to famous spots in Paphos and can get you there via the shortest routes. Whether travelers take a taxi from Larnaca to Paphos or go vice versa, Larnaca is about 134 km. But we ensure your trip will be extremely joyous and exciting if you hire our Paphos taxi to Larnaca. Our drivers are courteous so they will give you great company for traveling long distances.
Why CYPRUS247TAXI Is the Preferred Paphos Taxi Service?
When hiring a taxi in Paphos, tourists bank on a better, smoother, and faster ride with professional and experienced drivers with good communication skills. Our core mission is to provide these services and help you achieve your goal in Cyprus. Here are some of the reasons why clients are satisfied with our service and why you should only hire CYPRUS247TAXI:
Cleanliness
All our Paphos taxis have gleaming looks. We ensure the Paphos taxi is clean before sending it to your service. Our cars demand cleanliness, as we handle bulk requests from clients. We check the internals for cleaning issues and verify that nothing is left there that could affect the health of our customers.
Local Knowledge
We carefully hire drivers that know how to take travelers anywhere in the shortest possible time. Most Paphos taxi drivers are locals and have been driving here for quite some time. That is why they are familiar with all the streets and road connections.
Guaranteed safety
Safety is always of paramount importance for tourists. There is an organized crime under the umbrella of taxi services, and travelers are robbed. CYPRUS247TAXI verifies that you ride with our drivers safely. We verify the driver's details such as his police track record, level of education, and much more. Most importantly, we have installed a GPS tracking system on every Paphos taxi, which is why our Paphos taxi drivers are monitored on every trip. Ride with us without any hassle or security. Hire CYPRUS247TAXI, and go anywhere, anytime, with comfort and safety.
FAQs
How to reach Paphos city from Paphos airport itself via taxi?
It's very simple. You can book your taxi to Paphos directly from Paphos airport via the following simple steps:
Book your drop-off location in Paphos from the CYPRUS247TAXI app.
Our driver meets you at your location within the airport.
Head towards the parking lot and start your journey.
Finally, our driver drops you safely at your destination.
Which airports are close enough for a Paphos taxi ride?
The closest airport is Paphos which is almost 9 km. Other nearest airports are Ercan which is 164 km and Larnaca which is 133 km away from Paphos.
Do CYPRUS247TAXI drivers charge via meter or fixed payment?
While hiring a taxi in Paphos, The charging is only via online payment directly to the company. There is no cash payment or the option to bargain with the driver. This is to avoid charging high rates and scamming the traveler.
When can I book a CYPRUS24TAXI?
CYPRUS247TAXI booking is via an online portal and also by phone, and travelers can book their Paphos taxi 24/7. This is the edge of Paphos taxi services that public transport does not have.
What are the minimum charges to hire a taxi?
There are no benchmarks for the minimum charges. They are calculated via our computer and then displayed on your booking screen. All you have to do is select your ride, provide us information about the trip, and you will see the charges before clicking the hire button.