Paphos Airport serves as the gateway to one of Cyprus most captivating destinations. Located on the island's southwestern coast, Paphos airport taxi offers many activities and attractions that cater to all ages and interests. Whether you're a beach lover, history enthusiast, nightlife seeker, avid shopper, or simply someone searching for warm hospitality, Paphos airport taxi has it all.
Taxi Travel Times and Distances to/from Paphos Airport Surrounding Areas
| | | |
| --- | --- | --- |
| ROUTES | DURATION | DISTANCE |
| PAPHOS AIRPORT <> PAPHOS CITY CENTER | 20 MINUTES | 15 km |
| PAPHOS AIRPORT <> LIMASSOL | 48 MINUTES | 62 km |
| PAPHOS AIRPORT <> LARNACA | 1,5 HOURS | 126 km |
| PAPHOS AIRPORT <> NICOSIA | 2 HOURS | 200 km |
| PAPHOS AIRPORT <> AYIA NAPA | 2 HOURS | 172 km |
| PAPHOS AIRPORT <>PROTARAS | 2 HOURS | 180 km |
| PAPHOS AIRPORT <> TROODOS | 1 HOUR 10 MINUTES | 72 km |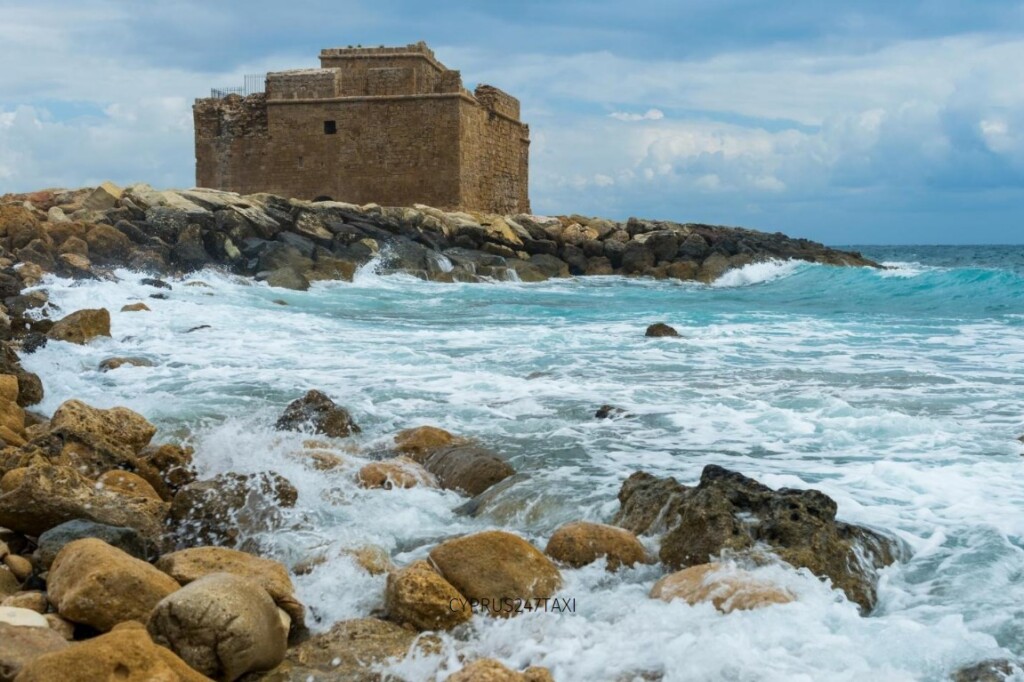 Why Choosing CYPRUS247TAXI for Your Paphos Airport Taxi Service is the Top Choice
Paphos Airport, situated on the southwestern coast of Cyprus, serves as a vital entry point to the charming city of Paphos and its areas like Paphos to Larnaca airport, Nicosia to Paphos airport, Limassol to Paphos airport and other surrounding. This bustling international airport welcomes numerous travelers annually, connecting them to diverse destinations worldwide. As an important transportation hub, Paphos Airport is pivotal in facilitating smooth and convenient travel experiences for leisure and business visitors.
Regarding airport transfers, having a reliable and efficient transportation service is paramount. In Paphos, CYPRUS247TAXI, which offers Paphos airport taxi services, stands out as a premier taxi company that caters to the varied needs of passengers arriving or departing from Paphos Airport to Larnaca Airport, Paphos Airport to Nicosia, Paphos Airport to Limassol or any other place your choice. Renowned for their commitment to exceptional service and customer satisfaction, CYPRUS247TAXI has become a trusted partner for hassle-free Paphos taxi airport transfers.
Let us explore the significance of Paphos Airport as a crucial transportation hub, emphasizing its role in connecting travelers to many destinations. Additionally, we will delve into the importance of CYPRUS247TAXI as a Paphos airport taxi service in ensuring seamless and convenient airport transfers for passengers. Whether you are a first-time visitor or a frequent flyer, understanding the benefits and features of reliable taxi services can significantly enhance your overall travel experience.
Join us as we delve into the realm of Paphos Airport taxi service and discover why discerning travelers choose CYPRUS247TAXI as their go-to option for reliable and efficient transportation solutions. From the moment you disembark from the plane to reaching your final destination, CYPRUS247TAXI is dedicated to providing a seamless journey that surpasses your expectations.
Overview of Paphos Airport
Located approximately 6.5 kilometers southeast of Paphos, Paphos Airport, also referred to as Paphos International Airport, holds a prominent position on the southwestern coast of Cyprus. This strategic location is a crucial transportation hub for locals and tourists, connecting them to various domestic and international destinations, such as Paphos Airport to Limassol, Paphos Airport to Ayia Napa, Paphos Airport to Nicosia and other destinations.
Paphos Airport's proximity to renowned tourist attractions, such as the ancient ruins of Paphos and the region's breathtaking beaches, positions it as a critical gateway for travelers seeking to explore Cyprus's cultural and natural wonders. By providing easy access using Paphos Airport taxi to these attractions, the airport significantly promotes tourism and drives economic growth in the Paphos region.
Over the years, Paphos Airport has experienced remarkable growth in passenger traffic, reflecting its increasing significance as a regional aviation hub and a need for an efficient Paphos Airport taxi service is very paramount. The airport has witnessed a steady surge in the number of passengers served, contributing to the thriving tourism industry in Cyprus.

The growth in passenger traffic can be attributed to several factors, including the expansion of airline services at the airport, the introduction of new routes, and the allure of Paphos as an attractive holiday destination. With its connectivity to major European cities, Paphos Airport has become a popular choice for leisure and business travelers, further solidifying its growth and importance within the aviation industry CYPRUS247TAXI offers a Paphos airport taxi that will take you around all these fantastic places.
The exciting characteristics of Paphos
Paphos, an enchanting city located on the southwestern coast of Cyprus, boast an array of captivating qualities that make it an irresistible destination. From its historical significance and archaeological marvels to its picturesque beaches, lively nightlife, and welcoming locals, Paphos offers a delightful blend of culture, natural beauty, and modern allure. Prepare to be entranced by the charm of Paphos as you embark on an unforgettable journey through its captivating landscapes and enticing attractions.
Mesmerizing Beaches
Paphos is renowned for its pristine beaches, featuring crystal-clear waters that beckon sun-seekers and water enthusiasts alike. From the famous Coral Bay to the secluded Lara Beach, a stretch of sand suits every preference. CYPRUS247TAXI ensures a seamless transfer from Paphos Airport to your chosen beach destination, allowing you to lose yourself in the warm sand and embrace the serene coastal ambiance without delay.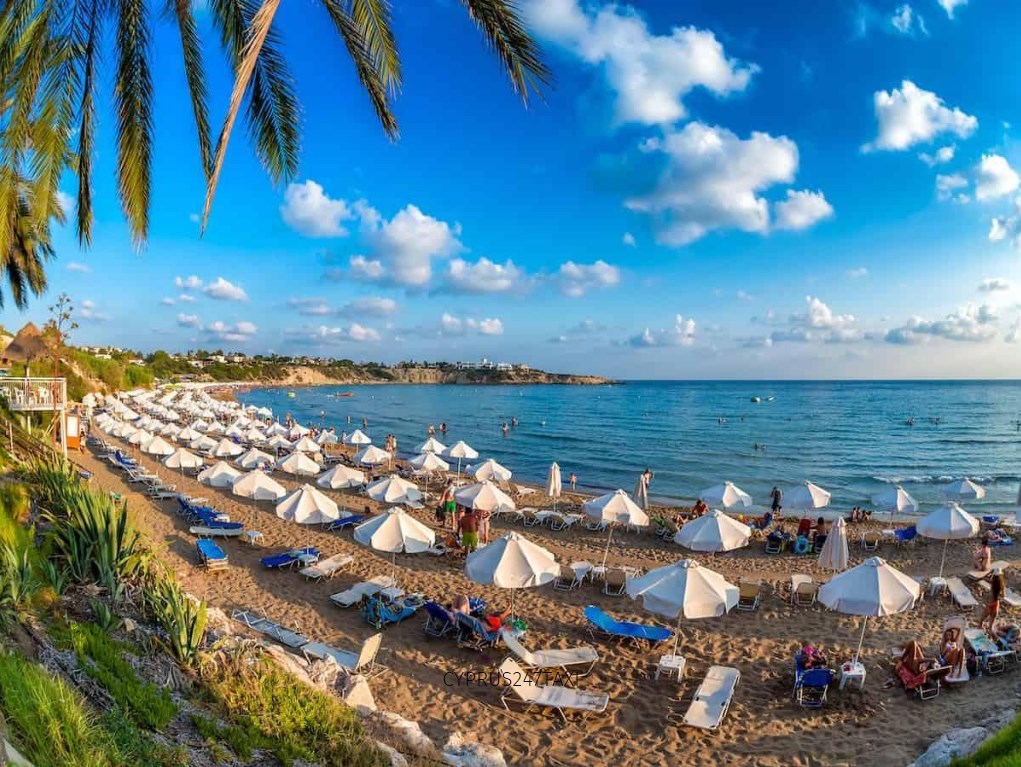 Cultural Heritage Riches
Paphos is steeped in history and has earned recognition as a UNESCO World Heritage Site. Explore the ancient ruins of Paphos Archaeological Park, where you can marvel at remarkably preserved Roman villas, intricate mosaics, and the legendary Tombs of the Kings. CYPRUS247TAXI, in its Paphos airport taxi services, has qualified drivers with extensive knowledge of the area's cultural heritage and can offer insightful commentary, enhancing your experience and deepening your understanding of its historical significance.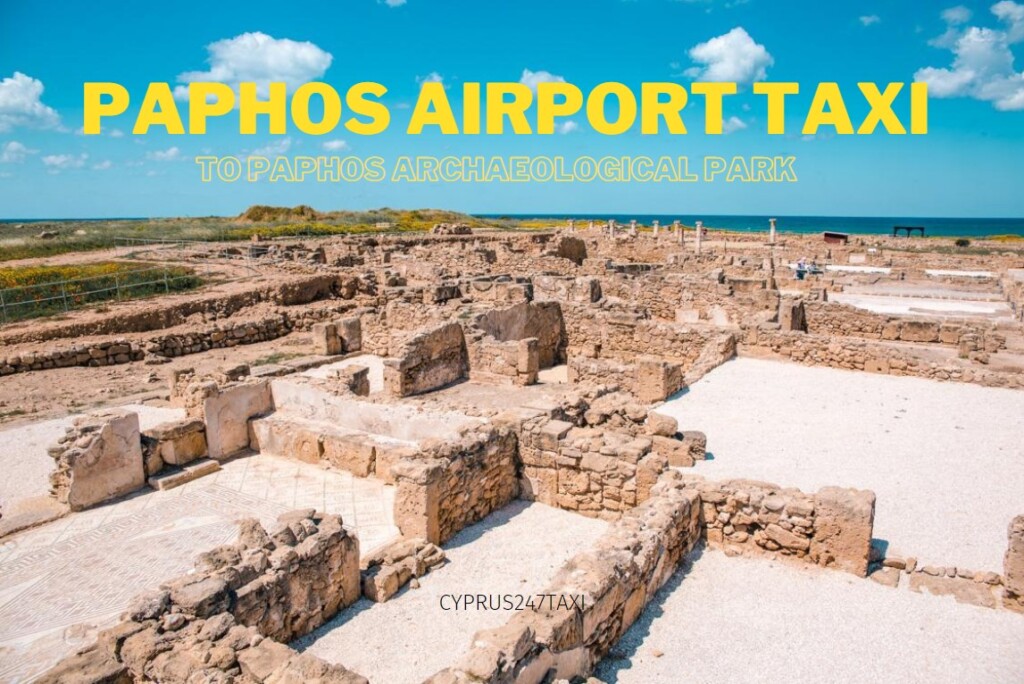 Vibrant Nocturnal Delights
Paphos transforms into a vibrant hub of entertainment and nightlife as the sun sets. The bustling Kato Paphos promenade comes alive with restaurants, bars, and clubs, offering a lively atmosphere for revelers. Whether you seek a sophisticated cocktail lounge or a pulsating dance floor, Paphos provides various options to satisfy your desires. With CYPRUS247TAXI, you can enjoy a worry-free night out, as the drivers are well-acquainted with the city's nightlife hotspots and can safely transport you around using Paphos Airport taxi service.
Superb Shopping Experiences
Paphos presents a haven for shoppers, with a diverse range of boutiques, souvenir shops, and local markets to explore. Wander through the picturesque streets of Paphos Town or visit the Kings Avenue Mall for an extensive selection of international brands. With CYPRUS247TAXI, you have a reliable Paphos taxi service that can conveniently transport your shopping bags and indulge in guilt-free retail therapy, knowing that reliable transportation awaits you.
Heartwarming Hospitality
Paphos locals genuine warmth and friendliness create an unforgettable vacation experience. CYPRUS247TAXI drivers embody the same hospitality, ensuring comfort and well-being throughout your journey from Paphos Airport to your accommodation.
Paphos Airport is the gateway to an extraordinary vacation in Paphos, where beautiful beaches, rich history, vibrant nightlife, fantastic shopping, and warm hospitality await. With CYPRUS247TAXI, you can rely on their trustworthy and professional service, allowing you to focus on creating cherished memories in this captivating destination. So sit back, relax, and let CYPRUS247TAXI transport you seamlessly from Paphos Airport to the wonders that await you in Paphos.
Popular Paphos airport routes
Evoking the allure of the Mediterranean Sea and the captivating landscapes of Paphos, CYPRUS247TAXI offers a remarkable experience on various ways from Paphos Harbor to Paphos Airport, Paphos Old Town to Paphos Airport, Limassol to Paphos Airport, and Nicosia to Paphos Airport. These journeys transcend mere transportation, immersing you in Cyprus's scenic beauty, rich heritage, and architectural wonders.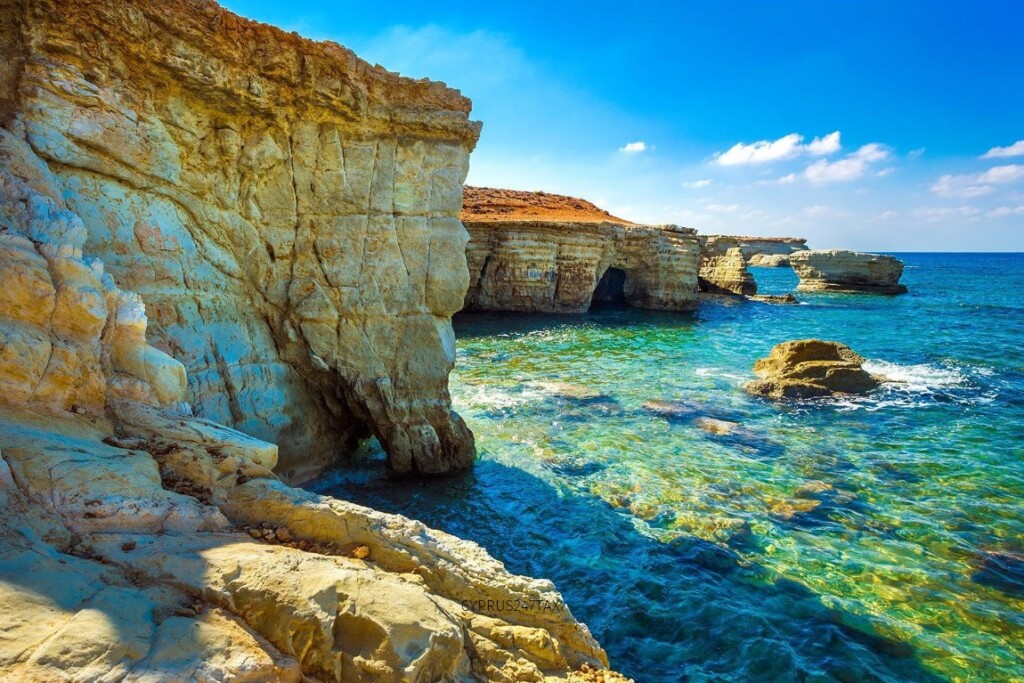 Paphos Airport to Aiya Napa
Your Paphos Airport to Aiya Napa by taxi promises to be an exciting one. Ayia Napa, located on the southeastern coast of Cyprus, is a popular tourist destination offering a vibrant array of attractions. As you are in a Paphos Airport to Ayia Napa taxi, you will discover captivating sights and experiences awaiting you. The renowned Ayia Napa Monastery, dating back to the 16th century, is a must-visit attraction, featuring impressive architecture and serene surroundings. Nature enthusiasts should explore Cape Greco National Forest Park, with its stunning coastal cliffs, hidden caves, and crystal-clear waters. Ayia Napa's pristine beaches, including Nissi Beach, offer opportunities to unwind, enjoy water sports, and indulge in beachside dining. The city also boasts the Thalassa Municipal Museum, where you can explore exhibits showcasing Cyprus' history and maritime heritage. Ayia Napa's vibrant nightlife scene, with its energetic clubs and bars, provides diverse music and entertainment options.
Additionally, the city offers many dining choices, ranging from traditional Cypriot cuisine to international delicacies, ensuring a memorable visit to this captivating coastal destination.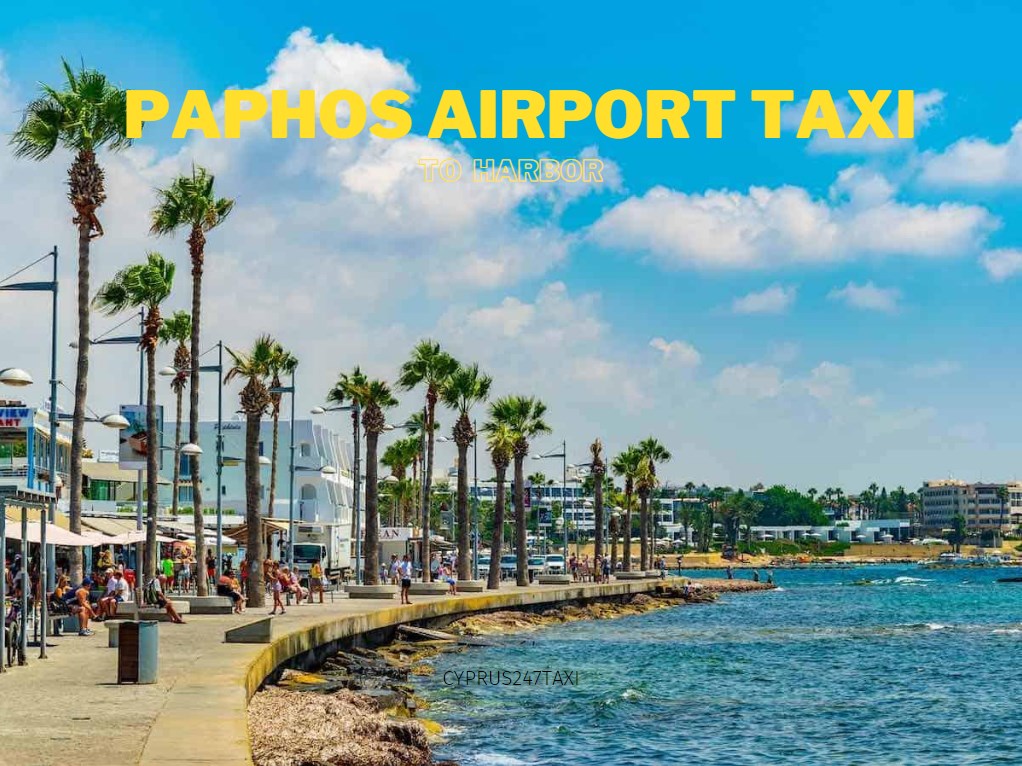 Paphos Airport to Limassol
Located on the southern coast of Cyprus, Limassol offers a range of attractions and sights for visitors to enjoy. Limassol Castle, a medieval fortress dating back to the 12th century, showcases Byzantine and Ottoman architectural influences and houses the Cyprus Medieval Museum. While on a Paphos Airport to Limassol taxi, you can also explore Limassol Marina, a vibrant waterfront area with a picturesque harbor, luxurious yachts, and upscale dining options. The Limassol Old Town features narrow streets with traditional houses and shops, including the Grand Mosque, reflecting the city's multicultural heritage.
Limassol is famous for its beautiful beaches, with Lady's Mile Beach being a popular choice for relaxation and sunbathing. The city's coastline offers various other beaches, each with its own unique ambiance. Cultural enthusiasts should visit the Limassol Archaeological Museum, which exhibits artifacts from the Neolithic period, providing insights into the island's ancient civilizations. Additionally, the Municipal Gardens offer a peaceful retreat with lush greenery, fountains, and a small zoo. Limassol's vibrant nightlife scene includes trendy bars, clubs, and lounges, ensuring entertainment after sunset. Paphos Airport to Limassol taxi, you can immerse yourself in the city's rich cultural heritage, explore historical landmarks, enjoy stunning beaches, and experience Limassol's lively atmosphere.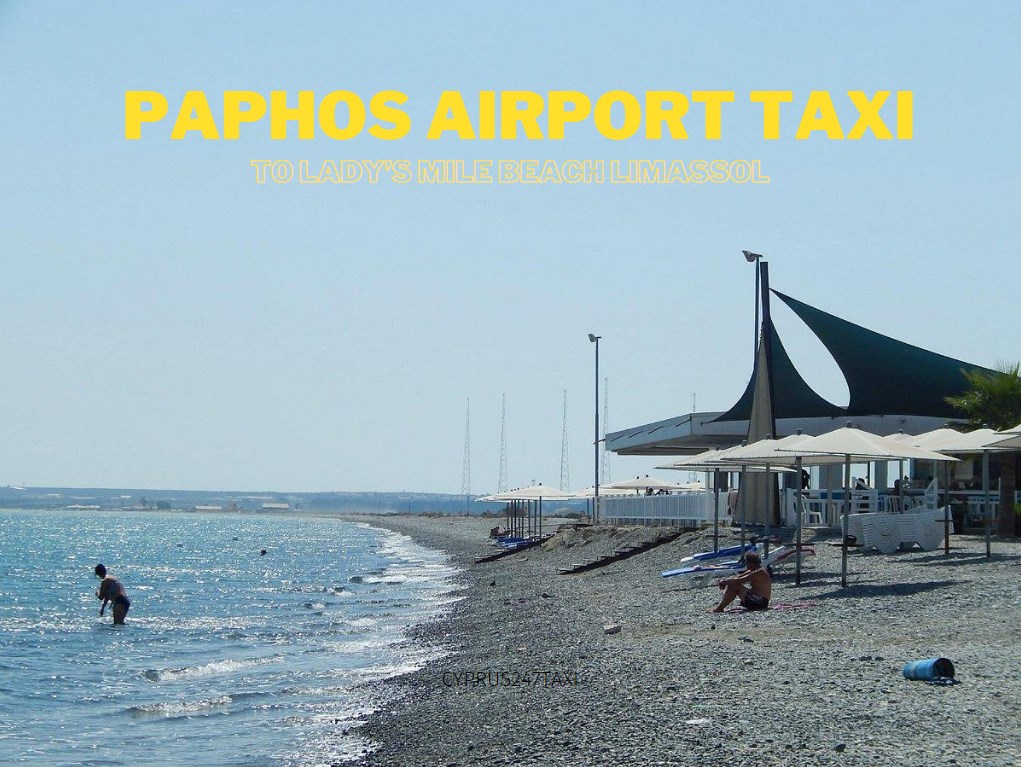 Paphos Airport to Nicosia
Embark on a taxi journey from Paphos Airport to Nicosia and explore these vibrant cities' enchanting sights. Nicosia, the capital city of Cyprus, offers a captivating blend of history, culture, and modernity. As you arrive, you'll be greeted by the impressive Venetian walls that encircle the old city, providing a glimpse into Nicosia's rich past. Venture further to discover the charming neighborhood of Laiki Geitonia, with its narrow streets, traditional houses, delightful shops, taverns, and artisanal boutiques.
No visit to Nicosia is complete without exploring the bustling Ledra Street, a shopper's paradise featuring high-end stores, fashion boutiques, and traditional Cypriot shops. The Cyprus Museum is a must-visit for history enthusiasts, housing a vast collection of artifacts spanning over 9,000 years of Cypriot history, including pottery, sculptures, mosaics, and jewelry. Explore magnificent places of worship, such as the Selimiye Mosque, showcasing Gothic and Ottoman architectural elements, and immerse yourself in Nicosia's culture at the Leventis Municipal Museum, offering exhibitions on history, art, and traditions.
Indulge in Nicosia's diverse dining scene, with local taverns serving meze platters and trendy restaurants offering fusion dishes. Taste traditional Cypriot delicacies like halloumi cheese, souvlaki, and loukoumades. Conclude your Paphos Airport to Nicosia taxi with a deeper appreciation for Nicosia's rich history, vibrant culture, and warm hospitality. Whether you explore ancient sites, wander through charming streets, or savor culinary delights, the Paphos Airport to Nicosia taxi promises an unforgettable experience for every traveler.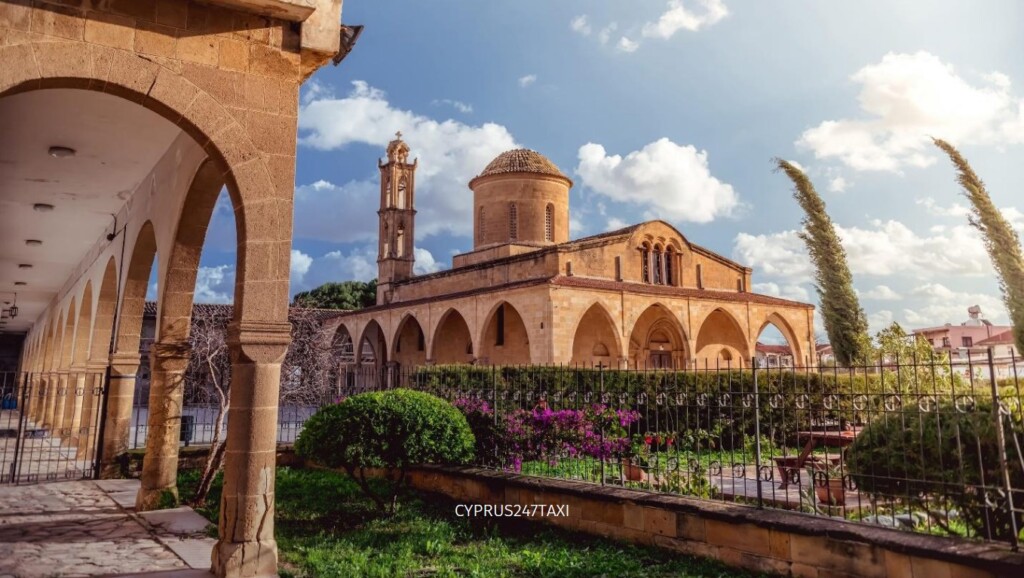 Paphos to Larnaca Airport
As you embark on a Paphos airport to Larnaca Airport taxi, you pass through Larnaca, a vibrant city on Cyprus's southeastern coast with many captivating sights and attractions. From the iconic Larnaca Salt Lake, a stunning natural wonder and bird habitat, to the serene Hala Sultan Tekke nearby, the city's cultural heritage and natural beauty are bound to captivate you. Explore the impressive Larnaca Marina with its charming cafes and breathtaking views of the turquoise waters, and visit the historic Larnaca Fort for a glimpse into the city's past. Stroll along the lively Larnaca Finikoudes Promenade, lined with palm trees and inviting shops, and immerse yourself in the local art scene at the Larnaca Municipal Art Gallery. As you journey from Paphos to Larnaca Airport by taxi, these captivating sights await, offering a memorable experience of Larnaca's vibrancy.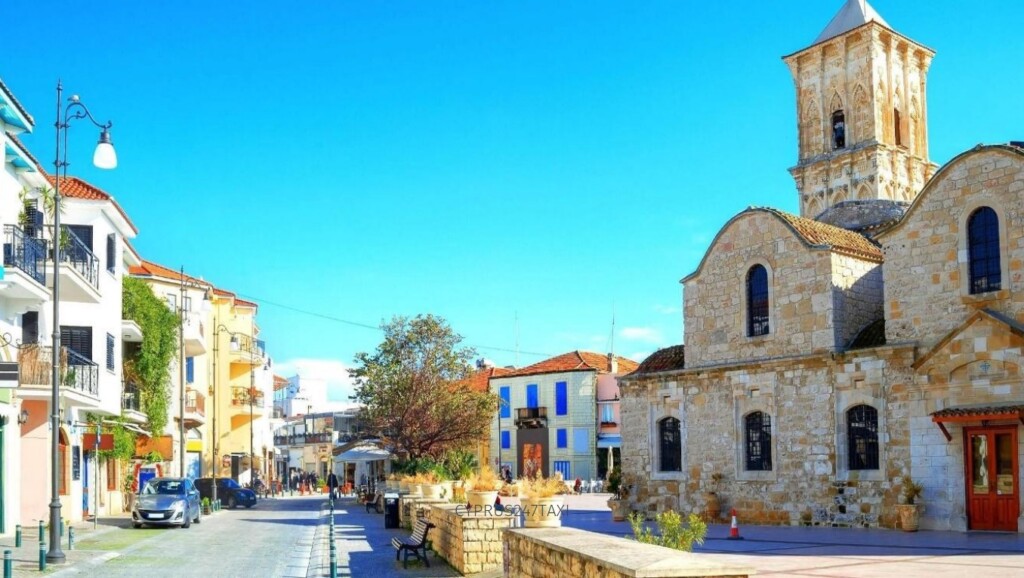 Paphos Airport to Protaras
Protaras, located on the southeastern coast of Cyprus, is a destination known for its captivating sights and attractions using Paphos Airport taxi service. There are plenty of experiences for everyone. Nature enthusiasts will appreciate the stunning cliffs, hidden caves, and scenic trails in Cape Greco. At the same time, culture lovers can explore the picturesque Church of Profitis Elias and enjoy panoramic views of Protaras In addition, Protaras boasts a vibrant dining scene with numerous restaurants offering a variety of international and local cuisines. With its array of attractions, Protaras promises an unforgettable experience for every visitor.
Paphos Airport to Troodos
Embarking on a journey from Paphos Airport to Troodos using Paphos Airport taxi unveils a treasure trove of captivating sights and attractions in this scenic city nestled amidst the Troodos Mountains. Troodos is renowned for its natural beauty and cultural heritage, offering an array of experiences for visitors. Explore the expansive Troodos National Forest Park, where picturesque trails, dense forests, and breathtaking mountain vistas await nature enthusiasts seeking tranquility and outdoor activities like hiking and cycling. Delve into the heart of Troodos to discover charming traditional villages such as Kakopetria, Omodos, and Platres, featuring quaint stone houses, winding streets, and a glimpse into the authentic Cypriot way of life, with ancient churches, monasteries, and delectable local cuisine to indulge in.
The Troodos region also boasts many historic sites that showcase its rich past. Take advantage of Paphos Airport taxi to visit the revered Kykkos Monastery, famed for its Byzantine icons and impressive architecture. For those seeking relaxation, Troodos offers a serene mountain environment with thermal spas and wellness centers where you can rejuvenate through therapeutic treatments and luxuriate in soothing hot springs—a perfect escape from the demands of everyday life. As you wander through Troodos, encounter charming craft shops and markets brimming with traditional handicrafts, local products, and souvenirs, allowing you to take a piece of Troodos home as a cherished memento of your unforgettable journey.
Benefits of Choosing CYPRUS247TAXI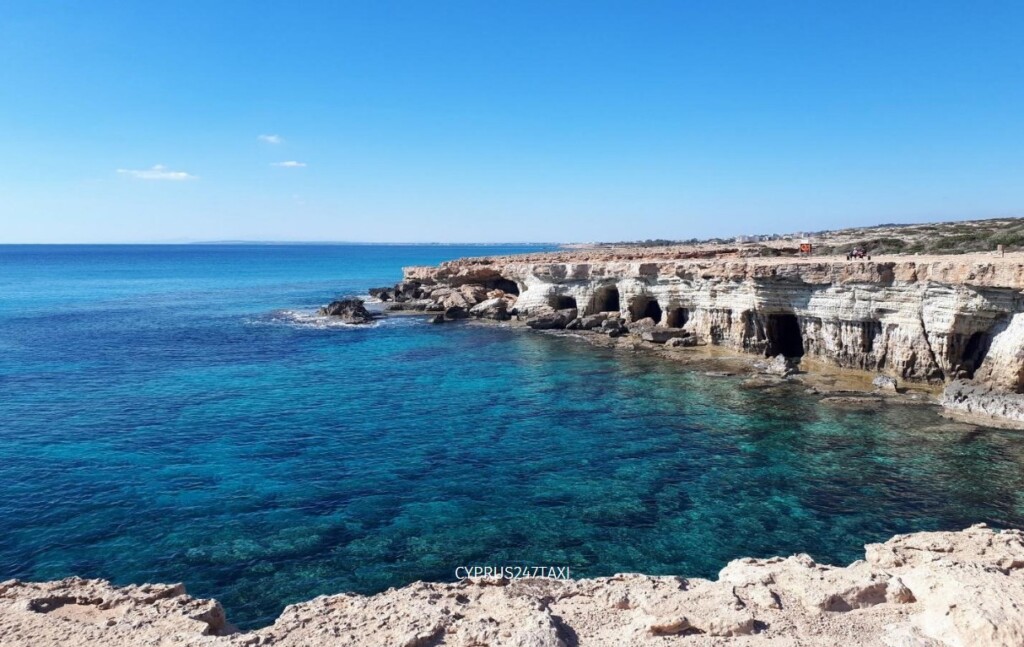 CYPRUS247TAXI stands as a distinguished provider of premier Paphos Airport taxi services, guaranteeing unparalleled convenience and reliability for travelers seeking seamless transportation. With its unwavering commitment to customer satisfaction, CYPRUS247TAXI has firmly established itself as the trusted and preferred choice for Paphos airport transfers in Paphos. Let's explore the significance of CYPRUS247TAXI, emphasizing their availability, convenience, and many benefits they offer passengers.
Availability and Convenience
Recognizing the importance of reliable transportation upon arrival at Paphos Airport, CYPRUS247TAXI ensures round-the-clock Paphos airport taxi service availability. Whether your flight arrives late or early in the morning, you can rely on CYPRUS247TAXI to have a professional and courteous driver ready to promptly pick you up, ensuring a hassle-free start or end to your journey.
Safety and Peace of Mind
CYPRUS247TAXI, places passenger safety at the forefront, guaranteeing that their drivers possess extensive experience, proper licensing, and in-depth knowledge of the local area. Travelers can unwind and enjoy the ride, knowing they are in capable hands and that their Paphos airport taxi service is in reliable and safe hands with CYPRUS247TAXI.
Convenience to Popular Tourist Destinations
CYPRUS247TAXI offers seamless Paphos Airport taxi service from Paphos Airport to many popular tourist destinations. Whether you plan to visit the captivating city of Limassol, the picturesque town of Ayia Napa, or the historically significant site of Kourion, CYPRUS247TAXI ensures a hassle-free journey. Their experienced drivers are adept at navigating these routes, allowing you to relax, take in the scenic beauty of Cyprus, and effortlessly reach your desired location.
Efficient Transfers to Resort Areas
If you choose to stay in one of the beautiful resorts near Paphos, Coral Bay, or Aphrodite Hills, the CYPRUS247TAXI provides convenient transfers. Their drivers are well-acquainted with the routes to these resort areas, guaranteeing a smooth and efficient transfer from Paphos Airport. With CYPRUS247TAXI Paphos taxi service, you can commence your vacation on the right note, arriving at your resort destination without delays or complications.
Transportation to Historical and Cultural Sites
Cyprus boasts a rich history and cultural heritage, and CYPRUS247TAXI Paphos airport taxi facilitates easy access to some of the island's most significant sites. From the ancient ruins of Kato Paphos to the medieval charm of Larnaca's St. Lazarus Church, CYPRUS247TAXI drivers possess profound knowledge of these routes. They can transport you to these historical and cultural landmarks, enabling you to explore and immerse yourself in Cyprus's fascinating past.
Reliable Transfers to Business Districts and Conference Centers
Business travelers attending meetings, conferences, or events in cities like Nicosia or Limassol can rely on CYPRUS247TAXI for dependable transfers from Paphos Airport. Their drivers are well-versed in the routes to business districts and conference centers, ensuring punctual arrivals for your professional engagements. With CYPRUS247TAXI, you can focus on your business objectives while entrusting the transportation logistics to capable hands.
Personalized Recommendations and Insights
CYPRUS247TAXI drivers possess extensive knowledge of Cyprus, including local attractions, dining options, and hidden gems. They can provide customized recommendations and insights during your journey, enriching your visit. Whether you seek a traditional Cypriot restaurant, a scenic viewpoint, or a lesser-known attraction, CYPRUS247TAXI drivers will share their local expertise, enhancing your overall experience.
Transparent Pricing
CYPRUS247TAXI prides itself on transparent and competitive pricing for all its taxi services at Paphos Airport. Before commencing your journey, you will receive a clear Paphos airport taxi price breakdown, ensuring a comprehensive understanding of the costs involved.
Choosing CYPRUS247TAXI for Paphos Airport taxi services grants you the convenience of traveling to various routes and destinations across Cyprus. From popular tourist spots to resort areas and historical sites to business districts, CYPRUS247TAXI ensures efficient and reliable transfers. With their knowledgeable drivers and personalized recommendations, your journey becomes comfortable and enriched with the local insights that make your visit to Cyprus memorable.
Tips for a Smooth Paphos Airport Taxi Experience with CYPRUS247TAXI
Here are some points to remember when availing of taxis in Paphos to guarantee a secure and pleasurable experience. Here are some tips to consider
Ensure a Seamless Experience: To guarantee taxi services at Paphos Airport, it is recommended to book a car in advance at CYPRUS247TAXI. This proactive approach will secure your booking and prevent any last-minute inconveniences.
Provide Accurate Flight Details: When making your Paphos airport taxi reservation, ensure that you provide precise information about your flight, including the arrival time and flight number. These details enable CYPRUS247TAXI to monitor your flight and adjust the pickup time accordingly, ensuring the timely arrival of your driver.
Effective Communication: If you have any specific requirements or preferences, such as needing a child seat or extra luggage space, clearly communicate these details during the Paphos Airport taxi booking process. CYPRUS247TAXI aims to accommodate your needs, and providing this information in advance is essential.
Convenient Meet and Greet Service: CYPRUS247TAXI offers a timely meet and greet service at Paphos Airport. Your assigned driver will wait for you in the arrivals area, displaying a name board. Keep an eye out for your name or the CYPRUS247TAXI logo, making it easy to locate your driver and commence your journey promptly.
Verify Driver and Vehicle: Prioritize your safety by verifying the driver's identity and vehicle details before entering the taxi. Match the driver's name to your booking confirmation and ensure the vehicle corresponds to the information provided. CYPRUS247TAXI prioritizes passenger safety and will furnish all necessary identification details.
Transparent Fare Understanding: Before starting your journey, ensure that you clearly understand the Paphos airport taxi price. While CYPRUS247TAXI Paphos airport taxi prides itself on transparent pricing, it is beneficial to confirm the estimated cost of your trip and inquire about any additional charges, such as tolls or late-night fees. This will ensure everything is predictable during payment.
Comfort and Convenience: CYPRUS247TAXI aims to provide a comfortable and enjoyable experience during your taxi journey. Sit back, relax, and feel free to engage with your driver if you have any questions or require local information. Their professional drivers have extensive area knowledge and can offer recommendations or insights to enhance your stay in Paphos.
Feedback and Reviews: After your Paphos Airport taxi experience with CYPRUS247TAXI. Your input is valuable and can help them continually improve their services. Additionally, positive reviews can assist fellow travelers in making informed decisions when choosing a taxi service at Paphos Airport.
By following these tips, you can ensure a smooth and enjoyable taxi experience with CYPRUS247TAXI at Paphos Airport. The commitment to excellent service, transparency, and passenger satisfaction will create a stress-free and comfortable journey to your destination.
Booking a CYPRUS247TAXI Taxi at Paphos Airport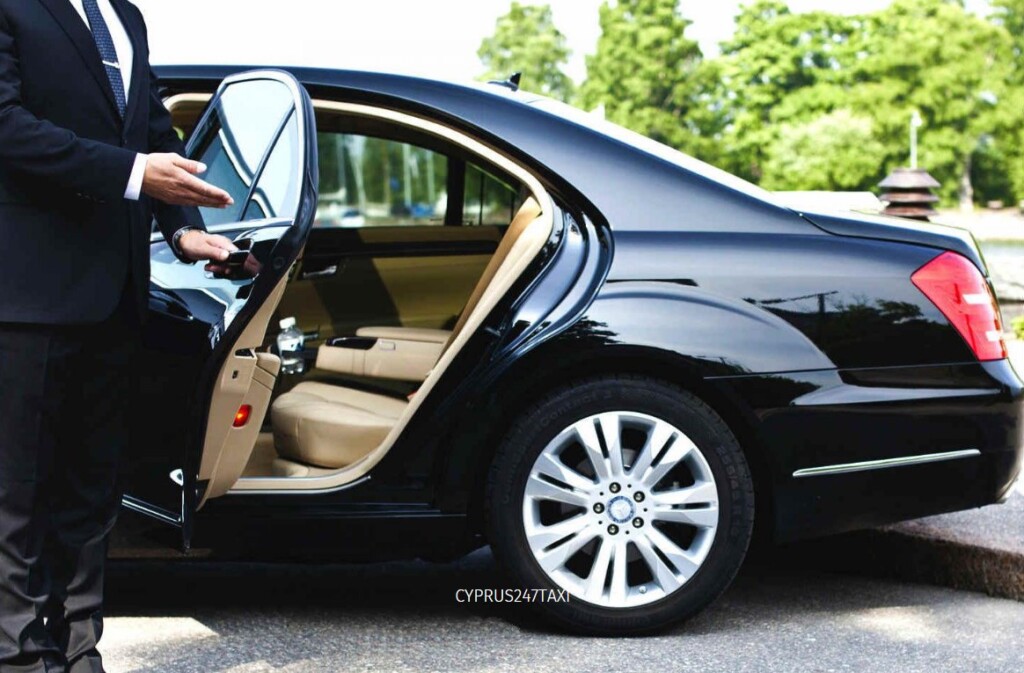 Booking a CYPRUS247TAXI Paphos taxi service at Paphos Airport is a convenient and reliable option for seamless transportation to your desired destination. Here's how you can easily book a taxi:
Online Booking: Visit the CYPRUS247TAXI website or use their user-friendly website to book online. Enter your pickup location as Paphos Airport and provide your drop-off destination.
Choose Vehicle Type: Select the appropriate vehicle type based on your needs and group size. CYPRUS247TAXI offers a range of vehicles, from sedans to larger vans, ensuring a comfortable and spacious ride for individuals, families, or groups for your taxi in Paphos.
Additional Requests: If you have specific requirements, such as a child seat or extra luggage space, indicate them while booking. CYPRUS247TAXI strives to accommodate your needs and provide a personalized Paphos airport taxi experience.
Fare Calculation: The fare for your journey will be calculated based on the distance and vehicle type selected. CYPRUS247TAXI Paphos airport taxi ensures transparent pricing, so you will know the cost upfront before confirming your booking.
Enjoy the Ride: Sit back, relax, and enjoy your comfortable ride with a professional, experienced CYPRUS247TAXI driver. They are knowledgeable about the local area and can provide helpful information or answer any questions you may have during your journey.
Booking a CYPRUS247TAXI Taxi at Paphos Airport ensures a hassle-free and convenient travel experience. With their easy online booking system, reliable service, and professional drivers, you can rest assured that your transportation needs will be taken care of, allowing you to focus on enjoying your time in Paphos.
Conclusion
In summary, CYPRUS247TAXI provides an exceptional travel experience for passengers arriving at Paphos Airport. Right from the moment you disembark, their reliable and professional service ensures a smooth transition to your desired destination. Whether captivated by Paphos' picturesque beaches, enthralled by its rich historical heritage, or indulging in its vibrant nightlife and shopping opportunities, CYPRUS247TAXI is the ideal choice for your transportation needs. Their unwavering dedication to customer satisfaction, safety, and convenience sets them apart as the preferred option for getting around Paphos. So, relax and arrive in style with CYPRUS247TAXI, and let your Paphos adventure commence with comfort, dependability, and a touch of sophistication.