Limassol is an ideal vacation destination due to its wide range of activities and attractions for all ages. From stunning beaches and a rich history to vibrant nightlife, excellent shopping, and friendly locals, Limassol offers something for everyone. Discover why CYPRUS247TAXI is the best Taxi choice for your next Limassol vacation with its beautiful beaches, cultural heritage, lively nightlife, fantastic shopping options, and warm hospitality.
Taxi Travel Times and Distances to/from Limassol's Surrounding Areas
| | | |
| --- | --- | --- |
| Routes | Duration | DISTANCE |
| LIMASSOL <> AYIA NAPA | 2-3 HOURS | 111 KM |
| LIMASSOL <> NICOSIA | 1 HOUR 30 MINUTES | 93 KM |
| LARNACA <> LIMASSOL | 40 – 50 MINUTES | 67 KM |
| LIMASSOL <> PROTAPAS | 2-3 HOURS | 121 KM |
| LIMASSOL <> LARNACA INTERNATIONAL AIRPORT | | 50 KM |
| LIMASSOL <> TROODOS | 30 MINUTES | 14 KM |
| LIMASSOL <> PAPHOS | 1 HOUR | 68 KM |
Why CYPRUS247TAXI is the Best Way to Get around Limassol
Welcome to CYPRUS247TAXI, the premier taxi service in Limassol that guarantees a seamless and dependable transportation experience. Our modern and comfortable fleet of taxis ensures a swift and secure journey to your desired destination.
With round-the-clock availability, CYPRUS247TAXI is at your service 24/7, ensuring you can conveniently hail a taxi whenever needed. Whether you require airport transfers, private hire, or group bookings, our comprehensive range of services has got you covered.
At CYPRUS247TAXI, we prioritize exceptional customer service. Our drivers are courteous and professional and dedicated to assisting you throughout your trip, making your journey pleasant.
When finding a reliable and hassle-free taxi service in Limassol, look no further than CYPRUS247TAXI. Take advantage of the difference we can make in your transportation experience. Book your taxi today and enjoy the excellence we offer.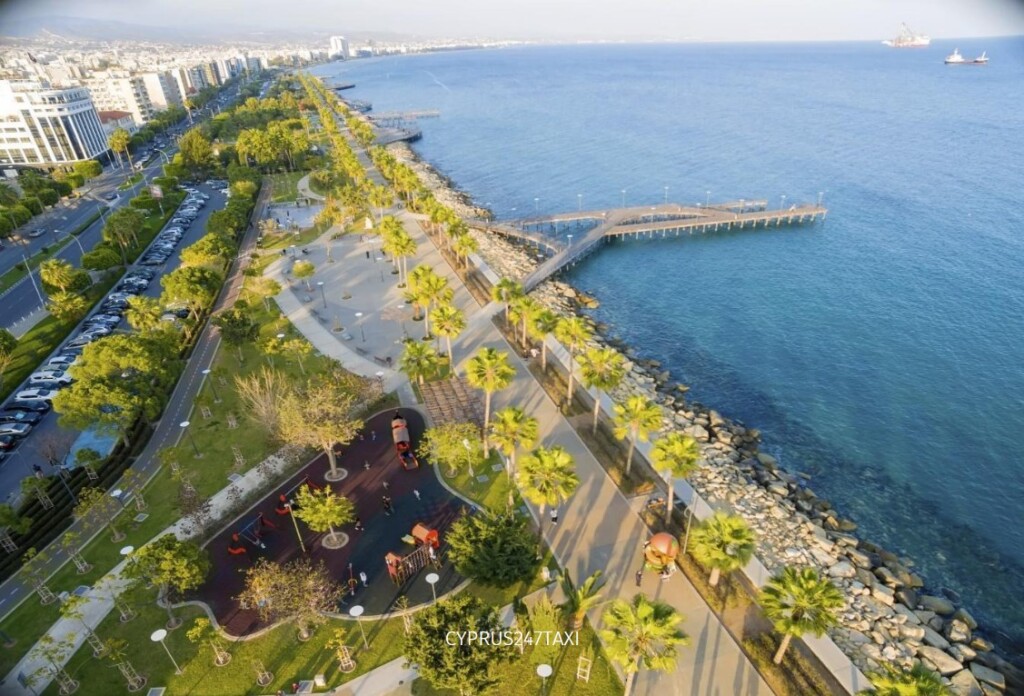 Taxi Services in Limassol
If you're seeking a dependable and convenient mode of transportation in Limassol, a CYPRUS247TAXI taxi service is a fantastic choice. With multiple firms providing taxi services all around Limassol, either from Paphos airport to Limassol, Larnaca airport to Limassol, or any other place of your choice around the city, CYPRUS247TAXI is undoubtedly the one that fits your requirements and budget. From airport transfers to day trips and sightseeing excursions, CYPRUS247TAXI is the best option much accessible to assist you in getting around the city.
One of Limassol's most prevalent taxi services is the Limassol to Larnaca airport service. This service provides a trouble-free method to travel between Limassol and Larnaca airport, with cozy and air-conditioned vehicles that can accommodate individuals, families, and groups of any size. You can also find taxi services for other destinations, such as Limassol to Paphos airport or Limassol to Ayia Napa taxi, and CYPRUS247TAXI handles all of those above efficiently.
When finding a taxi in Limassol, there are many ways to do that. You can easily search for "CYPRUS247TAXI taxi Limassol near me" on your smartphone to find the closest service provider. This is a fantastic option if you need to arrive somewhere quickly or are unfamiliar with the city and want to avoid getting lost.
One of the most significant advantages of using a CYPRUS247TAXI service is its convenience. You don't have to worry about parking, navigating unfamiliar roads, or dealing with public transportation schedules. You can sit back, unwind, and enjoy the ride with a taxi service.
CYPRUS247TAXI in Limassol is generally reasonable, with excellent and competitive rates offered by CYPRUS247TAXI. You can also find various taxi services using CYPRUS247TAXI, depending on your requirements and preferences. For example, a travel taxi Limassol is a popular option for those who want to explore the city and its environs. In contrast, a Limassol taxi service can be a great alternative if you need to travel within the city limits.
If you're traveling from Larnaca airport to Limassol, you can anticipate paying a Larnaca Limassol taxi price that's competitive and reasonable. Similarly, the cost of a taxi from Larnaca to Limassol can vary depending on the time of day, distance, and number of passengers.
A CYPRUS247TAXI service is also very convenient and affordable for those traveling from Paphos Airport to Limassol. You can quickly discover the Paphos to Limassol taxi cost by contacting CYPRUS247TAXI or checking the website.
Other prevalent taxi routes in Limassol include Limassol to Nicosia taxi and the taxi from Ayia Napa to Limassol. Whether you need to travel for business or leisure, the CYPRUS247TAXI in Limassol can provide a comfortable and stress-free way to get around.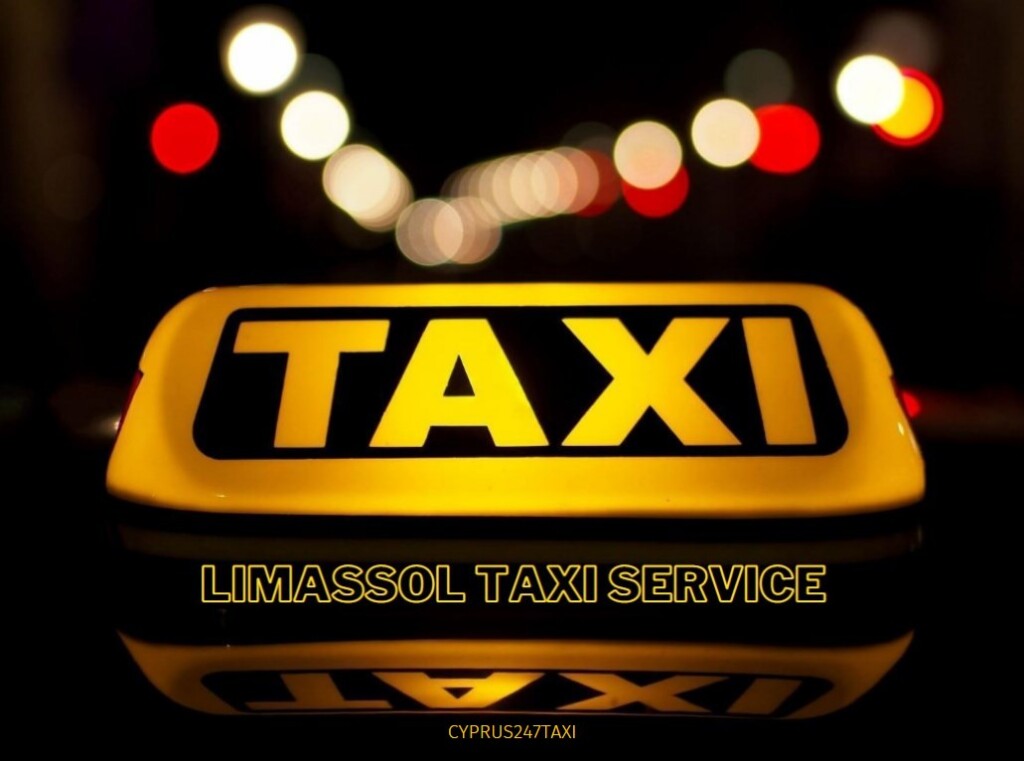 Popular Taxi routes in Limassol
There are different routes that taxis can take in Limassol. Some of the popular routes include the following.
Limassol to Larnaca Taxi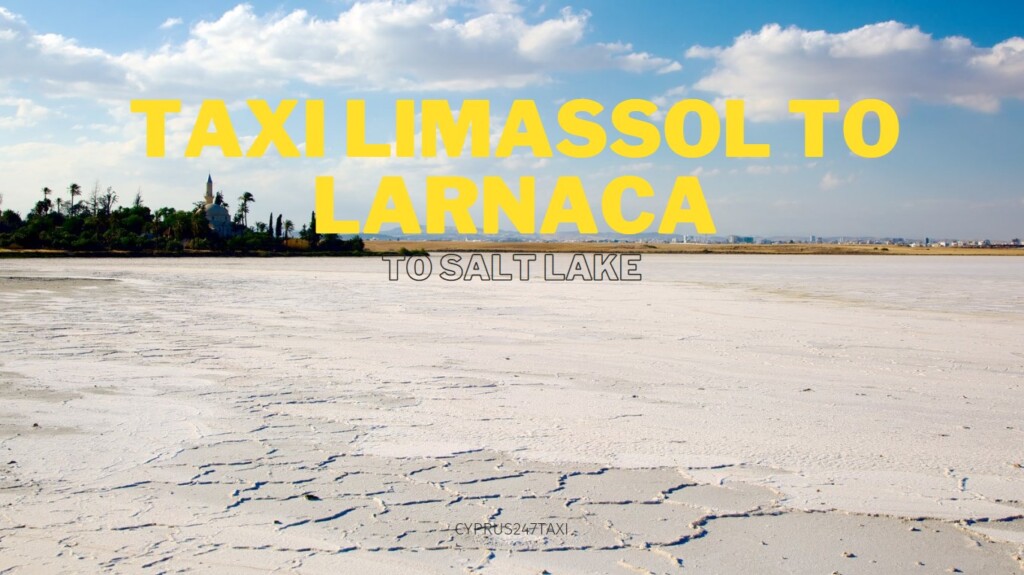 The Taxi service from Larnaca to Limassol in Cyprus can provide a visually stunning experience with numerous picturesque landscapes. Larnaca boasts several notable attractions that cater to diverse interests. The expansive Larnaca Salt Lake, situated within the city, entices tourists with its status as Cyprus' largest salt lake and its captivating array of bird species, including flamingos, pelicans, and ibises. Larnaca Marina, another popular destination, offers an ideal setting for relaxation and outdoor enjoyment, with a delightful assortment of shops, restaurants, and bars. History enthusiasts can delve into the captivating past at Larnaca Castle, a well-preserved 14th-century fortress now serving as a museum. The architectural masterpiece, Larnaca Cathedral, constructed in the 18th century, stands as a testament to Byzantine heritage; captivating visitors with its grandeur is a nonmiss for your Limassol to Larnaca Taxi trip. The enriching Larnaca Museum houses an impressive collection of artifacts, showcasing the compelling history of Cyprus through pottery, jewelry, and sculptures. Larnaca Beach provides a picturesque retreat for beach enthusiasts, inviting visitors to indulge in sunbathing, swimming, and relaxation. Nature lovers can find solace in Larnaca Public Garden, a serene park adorned with lush greenery, vibrant flowers, and a delightful children's playground. The iconic Larnaca Lighthouse offers breathtaking views of the city. At the same time, the vibrant Larnaca Municipal Arts Centre serves as a cultural hub, hosting many engaging events such as art exhibitions, concerts, and theater performances. Finally, Larnaca International Airport, located just a short distance from the city center, is the primary gateway to Cyprus, ensuring convenient access for travelers. With its captivating beaches, stunning landscapes, and vibrant cultural scene, Larnaca promises an enriching experience for every visitor.
Limassol to Ayia Napa Taxi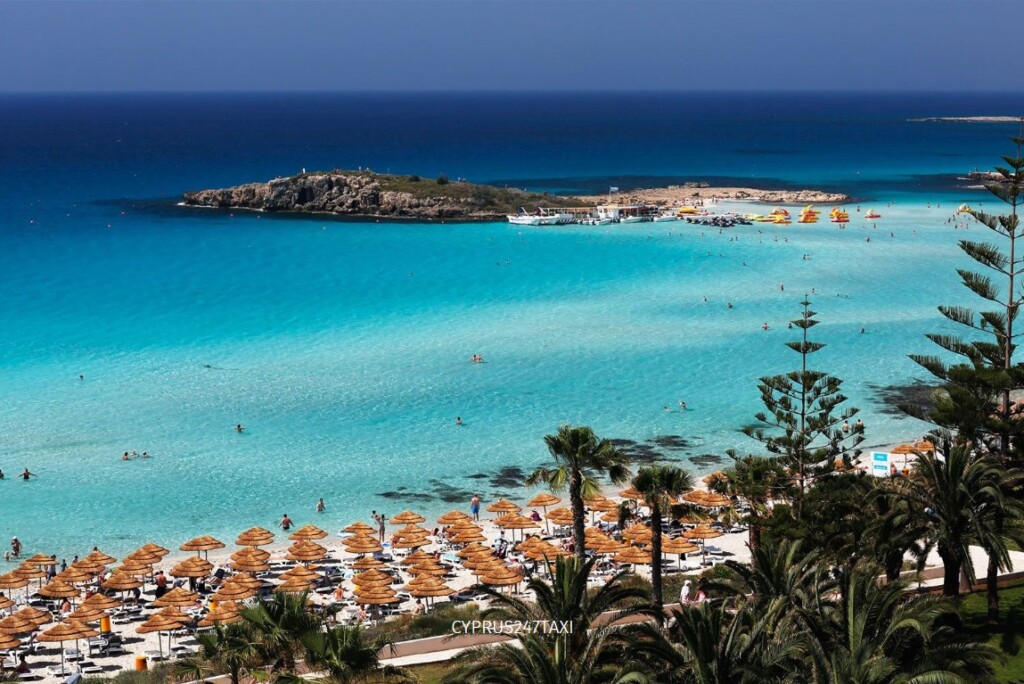 While on the Limassol to Ayia Napa taxi, you can enjoy some truly awe-inspiring scenery. Explore the famous attractions of Ayia Napa, a renowned destination in Cyprus. With its long sandy shoreline and crystal-clear waters, Nissi Beach is ideal for swimming, sunbathing, and entertainment. Coral Bay Beach offers similar beauty on a smaller scale, perfect for relaxation. Visit the historic Ayia Napa Monastery on a hill to discover the city's rich heritage. WaterWorld Water Park provides thrilling water rides and refreshing escapes, while Ayia Napa Aquarium showcases diverse marine life. Ayia Napa Municipal Park invites you to unwind amidst lush greenery, and Ayia Napa Lighthouse offers panoramic city views. Ayia Napa Castle captivate with their historical and natural allure. Immerse yourself in art at Ayia Napa Sculpture Park, and savor local flavors at Ayia Napa Food Market. As night falls, Ayia Napa's vibrant nightlife scene comes alive with various bars, clubs, and restaurants. With its splendid beaches, fascinating landmarks, and lively atmosphere, Ayia Napa promises an unforgettable experience for all on the Limassol to Ayia Napa taxi.
Limassol to Nicosia Taxi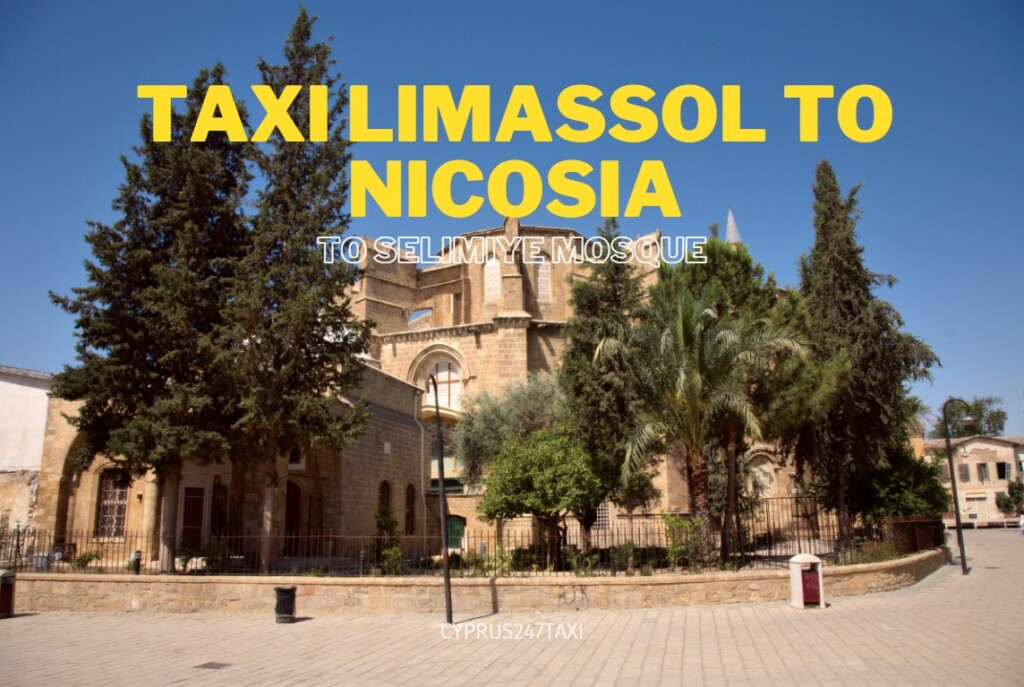 Nicosia, the capital of Cyprus, is the island's largest city. Positioned centrally, it is divided into two parts by the Green Line, a buffer zone demarcating the Turkish-controlled north and the Greek-controlled south.
Nicosia has been in continuous habitation since the beginning of the Bronze Age 2500 years BC, when the first inhabitants settled in the fertile plain of Mesaoria. Over time, it witnessed the rule of various empires, including the Romans, Byzantines, Venetians, and Ottomans.
The city presents numerous noteworthy attractions, such as the Selimiye Mosque, originally a cathedral converted into a mosque after the Ottoman conquest. Ledra Street, a bustling pedestrian thoroughfare, offers visitors an array of shops and eateries. The Kyrenia Gate, one of the few surviving gates built in the 16th century, is a testament to Nicosia's fortifications. The Nicosia Castle, now a museum, showcases artifacts from Cyprus' history. The Archbishop Makarios III Metropolitan Cathedral, Faneromeni Church, and Sultan's Hamam are significant religious and architectural landmarks.
Nicosia Municipal Arts Centre hosts cultural events, while the Cyprus Museum exhibits a collection of historical artifacts. The city is also home to the prominent Near East University and Nicosia International Airport.
Nicosia's rich tapestry of heritage and offerings makes it a city of diverse experiences.
Limassol to Paphos Taxi
The road trip from Paphos to Limassol in Cyprus provides a picturesque drive along the country's southern shoreline. Paphos, situated on Cyprus' southwest coast, serves as the capital of the Paphos District. Revered for its coastline, ancient remnants, and historic landmarks, Paphos stands as a favored tourist spot.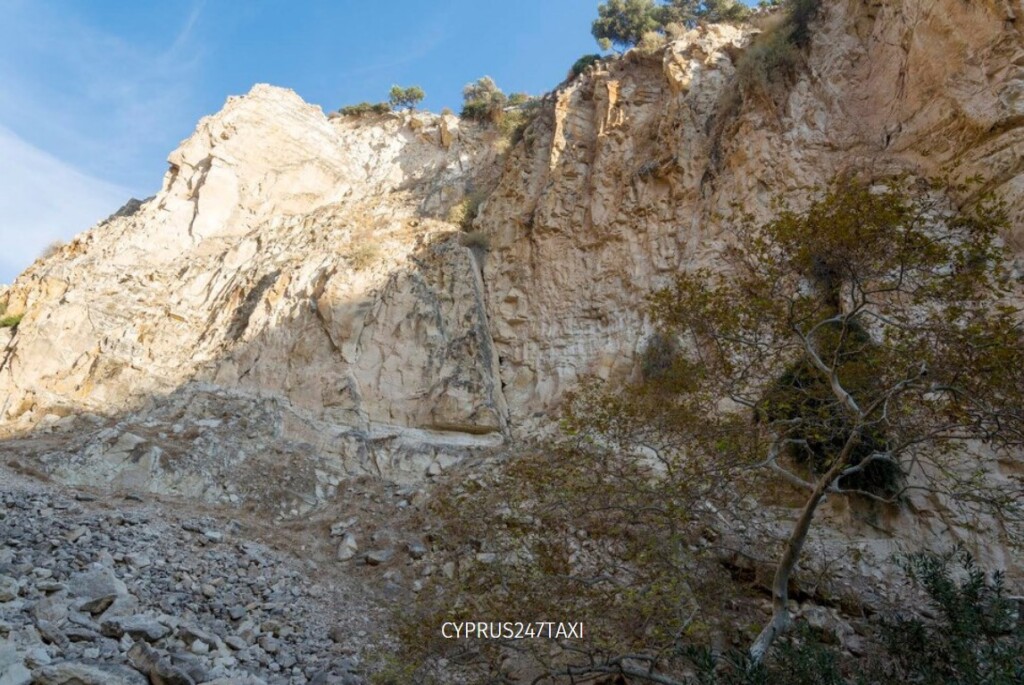 Paphos boasts several renowned attractions, including:
Kato Paphos Archaeological Park
Recognized by UNESCO as a World Heritage Site, this park holds the remains of numerous Roman and Byzantine structures, encompassing villas, mosaics, and tombs.
Tombs of the Kings
An assortment of rock-cut tombs hailing from the Hellenistic and Roman eras.
Aphrodite's Rock
A substantial rock formation traditionally believed to be the birthplace of the Greek goddess Aphrodite.
Paphos Harbour
A cherished destination for swimming, sunbathing, and fishing.
Paphos Zoo
Home to over 200 animals, including lions, tigers, elephants, and monkeys.
Agios Neophytos Monastery
A 12th-century Byzantine monastery situated amidst the Troodos Mountains.
Avakas Gorge
A sought-after hiking spot.
Lara Bay Turtle Conservation Station
A sanctuary for endangered sea turtles.
Paphos Aphrodite Waterpark
A popular family-oriented waterpark.
Plan your visit to Paphos to experience the allure of its diverse attractions.
Limassol to Larnaca International Airport Taxi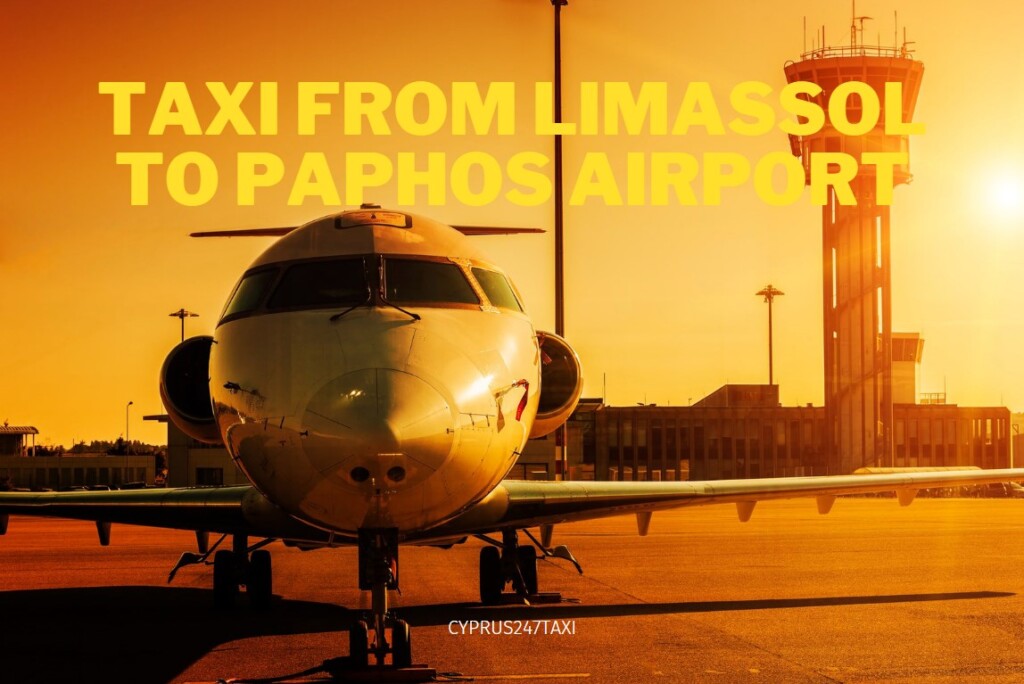 During the journey to Larnaca International Airport, one can witness picturesque sights of the Mediterranean Sea and the island's rocky shoreline.
On the way out of Limassol, there are several quaint towns and villages, each with a distinct personality and allure. One may observe fields of olive trees, vineyards, and the towering Troodos Mountains in the distance.
As you approach Larnaca, the famous Salt Lake, a marshy area that serves as a habitat for various species of birds, comes into view. You might also glimpse the impressive Hala Sultan Tekke, a 17th-century mosque among the world's most famous Muslim sanctuaries.
As you near the airport, the landing strip becomes visible, with planes taking off and touching down. The sight of the airport, enveloped by the shimmering waters of the Mediterranean, is truly breathtaking and a definitive conclusion to your expedition.
Limassol to Troodos Range Taxi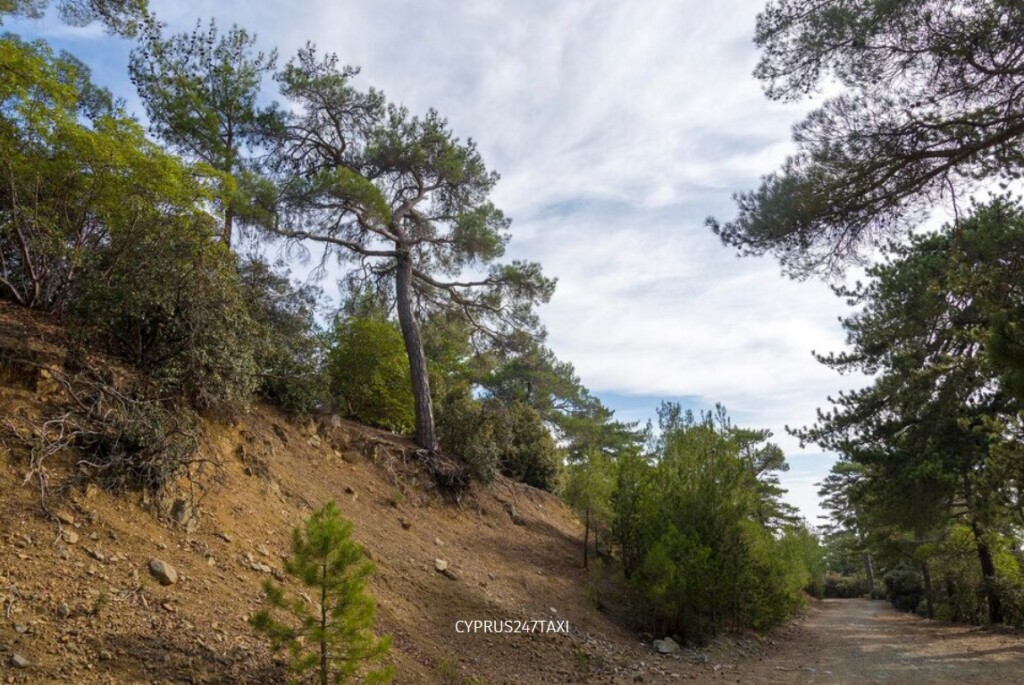 The Troodos Mountains is a must-visit while using Limassol to Troodos Range Taxi, located in the heart of Cyprus, form the highest mountain range on the island, featuring Mount Olympus as its pinnacle, towering at 2918,8 meters above sea level. Renowned for its natural splendor, the Troodos Mountains attract outdoor enthusiasts seeking opportunities for hiking, skiing, and various outdoor pursuits. Moreover, this region encompasses significant historical and cultural landmarks, such as:
The Troodos Monastery
An esteemed religious site of great antiquity, established in the 12th century to venerate the Virgin Mary.
The Stavros tis Psokas
Erected during the 19th century atop Mount Olympus, this sizable cross has become a revered destination for pilgrims.
The Omodos Village
Nestled in the heart of the Troodos Mountains, this traditional Cypriot village features winding alleys, stone dwellings, and a diverse array of shops and eateries.
The Troodos Forest Park
Boasting various trees, including cedar, pine, and oak, this park entices visitors with its picturesque trails and idyllic picnic spots.
The Troodos Geopark
Recognized as a UNESCO Global Geopark, it showcases an exquisite range of geological wonders, including volcanoes, cascades, and lava formations.
Offering a tapestry of natural beauty, cultural heritage, and recreational opportunities, the Troodos Mountains present an enchanting retreat for those seeking relaxation, outdoor pursuits, and a deeper understanding of Cyprus' rich history and traditions and lots more while on Limassol to Troodos Range Taxi.
Airport Transfers in Limassol
One of the most crucial factors to consider when journeying to Limassol is how to travel to and from the airport. Although various modes of transportation are accessible, airport transfer services have become more prevalent due to their practicality, reliability, and affordability.
Limassol Taxi to Larnaca Airport
One of Limassol's most in-demand airport transfer services is the Limassol Taxi to Larnaca Airport. This service offers convenient and efficient transfers to and from Larnaca International Airport, roughly 50 kilometers from Limassol. The service operates round the clock, and the average journey time is approximately 1 hour, depending on traffic.
Limassol to Paphos Airport Taxi
Another trendy airport transfer service in Limassol is the Limassol to Paphos Airport Taxi. This service offers dependable and comfortable transfers to and from Paphos International Airport, approximately 65 kilometers from Limassol. The service operates 24/7; the average journey time is about 1 hour, depending on traffic.
Reasons to choose CYPRUS247TAXI for your Taxi Service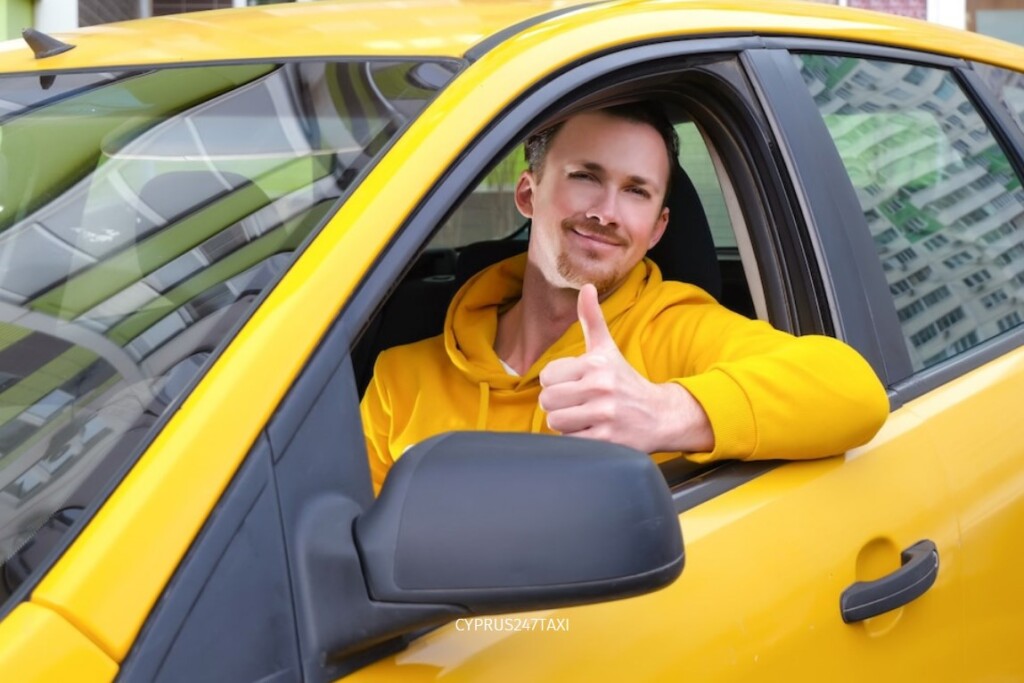 CYPRUS247TAXI is a respected taxi service operator in Cyprus that provides a variety of benefits to its passengers, such as:
Experienced and skilled drivers – CYPRUS247TAXI employs professional and well-trained drivers who are well-versed in Limassol taxi service and will transport you to your destination safely and effectively.
Reliable and convenient service – With a large fleet of well-maintained vehicles, CYPRUS247TAXI delivers comfortable and reliable taxi Limassol to travelers across Limassol, ensuring that you reach your destination on schedule and comfortably.
Affordable pricing – CYPRUS247TAXI provides reasonable pricing for its Limassol taxi services, making it a budget-friendly option for travelers.
Personalized service – CYPRUS247TAXI Intercity transfer utilities can offer personalized Limassol taxi services to their passengers, such as pick-up and drop-off from Paphos airport to Limassol, Larnaca airport to Limassol taxi services, tailored itineraries, or special requests.
24/7 accessibility – CYPRUS247TAXI operates round-the-clock, seven days a week, so that you can book a Limassol taxi service anytime, day or night.
Safety and security – CYPRUS247TAXI Limassol taxi services are managed by authorized and proficient chauffeurs who assure secure and safe transportation for their passengers.
Cost-effective – CYPRUS247TAXI Limassol taxi services is more cost-effective than other taxi services limassol, primarily if travelers are in a group or necessitate long-distance travel. CYPRUS247TAXI Limassol taxi services provide a trustworthy, cozy, and economical approach for travelers to explore other routes and enticements in Cyprus. By selecting the appropriate Limassol taxi service and bundle, travelers will experience a trouble-free and pleasurable excursion that satisfies their demands and expectations.
User-friendly reservation system – CYPRUS247TAXI has a simple-to-use online booking platform that allows you to book your Limassol taxi service quickly and efficiently.
Overall, CYPRUS247TAXI is a dependable and economical Limassol taxi service in Cyprus, making it an excellent choice for both tourists and locals seeking a comfortable and stress-free ride to either Limassol to Ayia Napa by taxi, Limassol to Nicosia taxi or any other destination.
Benefits of Using CYPRUS247TAXI for your Airport Transfer Service in Limassol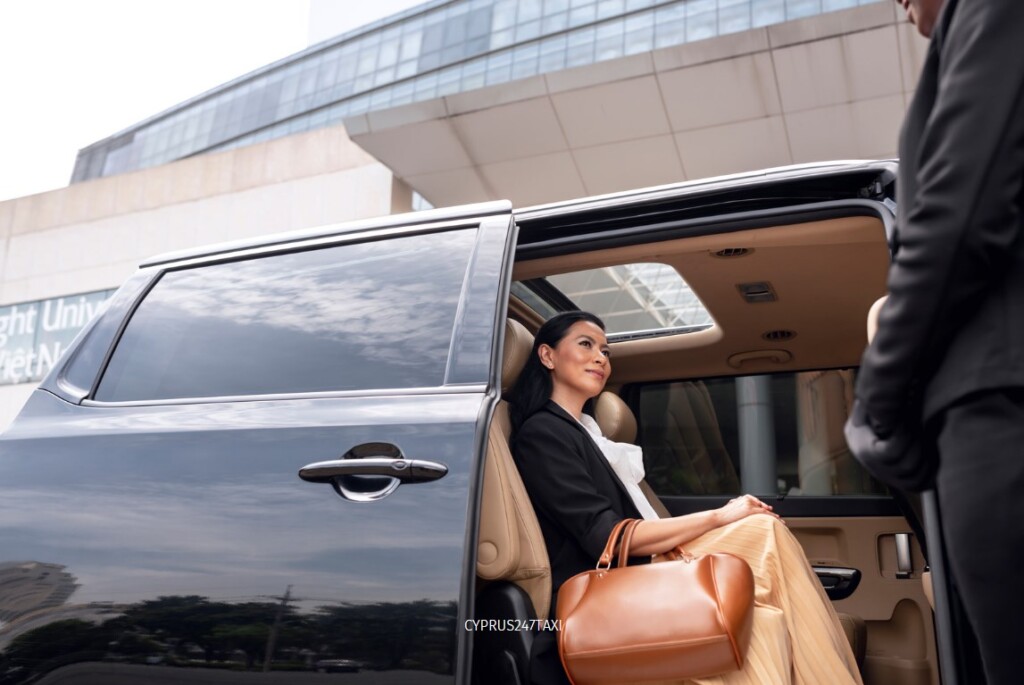 Opting for a Limassol airport transportation service in Limassol presents numerous advantages. Firstly, it offers a trouble-free and calm approach to reaching and departing from the airport since the driver will pick you up from your lodgings and transport you directly to the airport terminal, either you are using Limassol to Paphos airport taxi or Larnaca airport to Limassol taxi. This saves valuable time and energy, especially when traveling with bulky baggage or elderly and young companions.
Secondly, CYPRUS247TAXI Limassol's airport transportation services demonstrate reliability and punctuality. CYPRUS247TAXI functions continuously and possesses skilled and proficient operators who recognize the most efficient paths and shortcuts to evade traffic and delays while using a Limassol taxi service. This ensures prompt arrival at the Larcana airport from Limassol or Paphos airport for your flight or timely arrival at any of your destinations without any hindrances.
Lastly, utilizing a CYPRUS247TAXI airport transfer service in Limassol is cost-effective, as the charges are competitive and economical in contrast to other modes of transportation, like leasing a car, boarding a bus or train, or waving down a taxi on the street. Additionally, CYPRUS247TAXI airport transfer services in Limassol provide fixed-price options and personalized tours and excursions, which can save you money and supply you with a memorable and delightful experience in Cyprus.
To conclude, CYPRUS247TAXI airport transfer services in Limassol furnish a comfortable, reliable, and budget-friendly way to travel to and from the airport. Whether you choose a Larnaca Airport Taxi from Limassol or a Paphos Airport Taxi to Limassol, you can anticipate a smooth, stress-free journey with skilled and proficient operators. Therefore, the subsequent time you visit Limassol, deliberate on using a CYPRUS247TAXI airport transfer service for a seamless and pleasurable start and conclusion to your expedition.
Intercity Transfers in Limassol
Limassol is a sought-after tourist hot spot in Cyprus, drawing in globe-trotters with its sunny coasts, cultural abundance, and lively after-dark scene. Notwithstanding, numerous explorers additionally yearn to discover other towns and sights in Cyprus, for example, the historic capital Nicosia or the party hub Ayia Napa. To fulfill their desire, a trustworthy and comfortable Limassol taxi service becomes imperative to ferry them from Limassol to their desired stopover, ad CYPRUS247TAXI is the best for such services.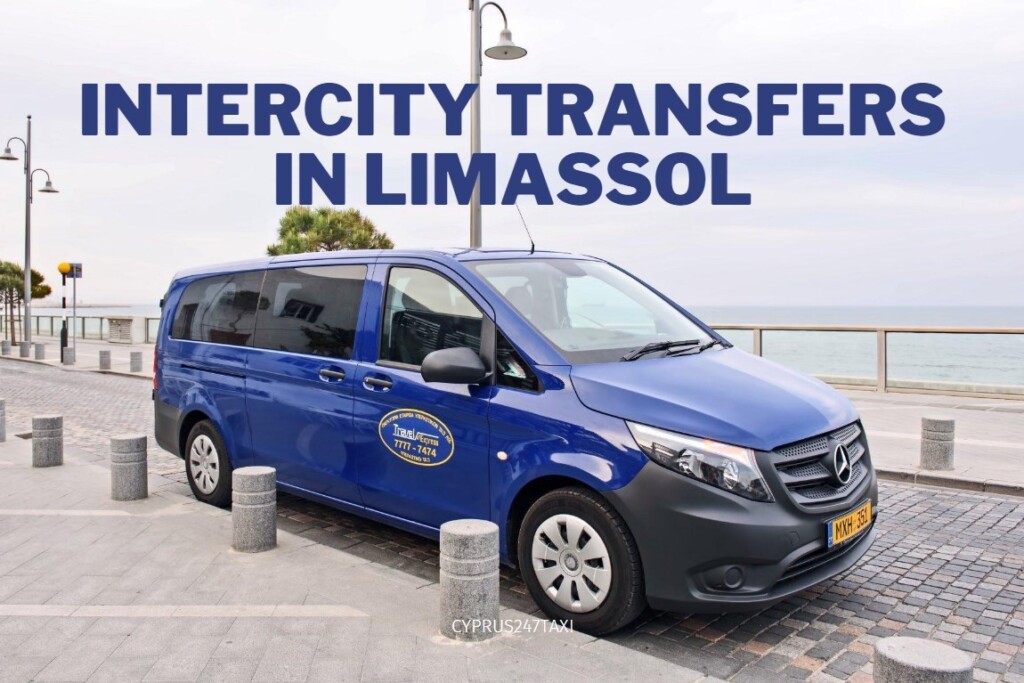 Most Popular Intercity Transfer Services in Limassol
Regarding intercity transfers in Limassol, numerous CYPRUS247TAXI inter-city services present their extras to voyagers. Two of the most well-liked intercity transfer services in Limassol are the Limassol to Ayia Napa Taxi and the Limassol to Nicosia Taxi.
Limassol to Ayia Napa Taxi moving between these trendy holiday spots is convenient and economical. The expedition takes roughly 1.5-2 hours, contingent on traffic, the taxi service is accessible 24/7, and travelers can pick from distinct vehicle kinds, such as regular sedans, luxurious cars, or minivans, depending on their group size and preferences.
Limassol to Nicosia Taxi is another popular intercity transfer service in Limassol, particularly for corporate voyagers or those who want to explore the cultural and historical attractions of the capital. The journey takes around one and a half hours, contingent on traffic. The taxi service is likewise accessible 24/7, and travelers can pick from distinct vehicle kinds, such as executive sedans, limousines, or SUVs, depending on their requirements and budget.
Tips for Using Taxis in Limassol
Here are some points to remember when availing of taxis in Limassol to guarantee a secure and pleasurable experience. Here are some tips to consider:
Search for a trustworthy Limassol taxi service. You can inquire about recommendations from your lodgings or check online reviews to ensure you receive a reliable service.
Pre-book Upfront. Pre-book your Limassol taxi to Larnaca airport or any other destination beforehand if feasible. This will provide you peace of mind and ensure you have transportation when you arrive.
Booking a Taxi. When you require a taxi in Limassol, search for "taxi Limassol near me" on your smartphone to find the closest options. Alternatively, you can ask your lodgings receptionist or a local to recommend a taxi service.
Be vigilant of scams. Some taxi drivers may try to trick tourists by taking extended routes or charging unreasonable fares. Be conscious of the road and approximate fare before getting into the taxi, and keep an eye on the meter during the journey.
Keep your possessions secure. Like in any city, keep your belongings safe in a taxi. Ensure you have all your belongings before leaving the cab, and avoid leaving valuables in the car.
Know some basic Greek phrases. While many taxi drivers in Limassol speak English, learning some basic Greek terms can be helpful. This can help you communicate better and avoid misunderstandings.
Carry Small Change. It's wise to carry small change with you, as some taxi drivers in Limassol may not have change for larger bills.
Be Explicit on the Destination. Communicate clearly with the driver about your destination. If you need clarification on the exact address, bringing a map or asking for directions is wise.
Know the prices. It's vital to be mindful of the taxi prices in Limassol and other destinations in Cyprus. For example, the Larnaca to Limassol taxi and the Limassol to Ayia Napa taxi prices may fluctuate depending on the time of day and the taxi company. You can also compare the Larnaca to Limassol taxi cost or the Limassol to Nicosia taxi cost.
Choose the appropriate route. If you require a taxi from Larnaca to Limassol or from Limassol to Paphos airport, select the proper path to avoid confusion or delays. You can also ask the driver for advice on the best route.
Pre-book a return journey. If you need to travel back from your destination, it's prudent to pre-book a return journey to ensure a smooth trip. This can also help you negotiate a better price with the taxi company.
Please select the suitable taxi. Whether you're seeking a taxi in Limassol Cyprus or a taxi from Limassol Paphos, it's crucial to choose the right taxi company based on your requirements and budget (CYPRUS247TAXI offers the best services). You can also check for any special offers or discounts available. By following these tips, you can ensure a secure and trouble-free taxi experience in Limassol.
When you choose CYPRUS247TAXI for your taxi services while in the city, you have nothing to worry and CYPRUS247TAXI promises to offer you an enjoyable and efficient service.
Conclusion
In conclusion, Limassol is a well-liked spot for tourists and locals, and taxi services make for a suitable and trustworthy option for transportation necessities. CYPRUS247TAXI taxi services can trim travel time and provide a hassle-free experience for explorers who aim to navigate the city or reach their destinations rapidly. Limassol's dwellers and tourists should always give CYPRUS247TAXI the taxi services offered in the town, given that these services are operated by seasoned and professional transporters who possess ample knowledge of the region and can effortlessly ferry passengers to their desired locations. Furthermore, these services offer various vehicles catering to varied preferences and budgets, including luxury cars, vans, and minivans.
By availing of a CYPRUS247TAXI taxi service, individuals can sidestep the ordeal of maneuvering through unfamiliar roads, searching for parking spaces, and coping with traffic. They can also be confident that they will arrive safely and punctually at their destination. We prompt our readers to use the CYPRUS247TAXI taxi services available in Limassol for their transportation requirements.
We hope this article has been helpful and valuable to those searching for dependable transportation alternatives in Limassol. By utilizing the CYPRUS247TAXI taxi services offered in the city, travelers can bask in a stress-free and pleasurable experience in this beautiful destination.